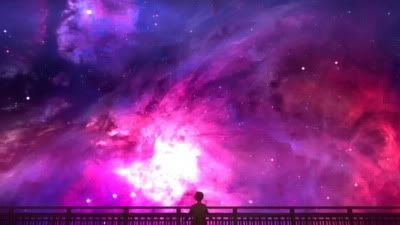 Gone were the obscuring masses of dust and gas. A billion years ago they must have been swept up for fuel by the hungry, crowded stars. The Core lay before me like a great jeweled sphere. I'd expected it to be a gradual thing, a thick mass of stars thinning out into the arms. There was nothing gradual about it. A clear ball of multicolored light five or six thousand light-years across nestled in the heart of the galaxy, sharply bounded by the last of the dust clouds. I was 10,400 light-years from the center.
The red stars were the biggest and brightest. I could actually pick some of them out as individuals. The rest was a finger painting in fluorescent green and blue. But those red stars ... they would have sent Aldebaran back to kindergarten.
It was all so bright. I needed the telescope to see black between the stars.
I'll show you how bright it was.
Is it night where you are? Step outside and look at the stars. What color are they? Antares may show red if you're near enough; in the system, so will Mars. Sirius may show bluish. But all the rest are white pinpoints. Why? Because it's dark. Your day vision is in color, but at night you see black and white, like a dog.
The Core suns were bright enough for color vision.
I'd pick a planet here! Not in the Core itself but right out here, with the Core on one side and on the other the dimly starred dust clouds forming their strange convoluted curtain.
Larry Niven; The Core
OH SCREW THOSE LINE ABOVE, lets give it another shot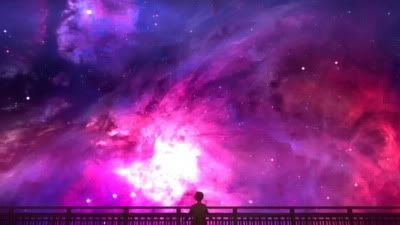 Glaciers melting in the dead of night
And the superstars sucked into the 'supermassive'

I thought I was a fool for no-one
Oh baby I'm a fool for you
You're the QUEEN OF THE SUPERFICIAL
And how long before you tell the truth



YEAH, NOW THIS ROCKZ BETTER





Sekali lagi KyonAni mengingatkan saya pada seseorang yang moody, yang ketika dia mau, dia bisa saja membuat sesuatu yang mengagumkan, namun hal seperti itu hanya terjadi maksimal dua kali dalam setahun.

Setelah melewati perjalanan panjang selama kurang lebih tiga ratus dua puluh dua tahun (yang menghabiskan kurang lebih lima kali reinkarnasi) maka tibalah kita di penghujung akhir cerita. Sebuah perjalanan yang melelahkan bagi mereka yang tidak memiliki cukup power of will namun menghadiahkan akhir yang manis dan membekas bagi mereka yang bertahan hingga akhir, meninggalkan setumpuk pertanyaan dan segudang luapan emosi yang tidak bisa terwakilkan lewat deretan alphabet.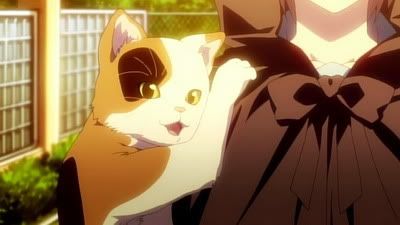 Lalu berkatalah si kucing kepada anak muda tersebut, "Jelaskan padaku tentang konsep percakapan ketika tidak semua yang ingin kau sampaikan bisa dijelaskan dengan kata-kata. Jika perbendaharaan manusia sangatlah terbatas dan kemampuan manusia untuk memahami tidaklah sama, mengapa manusia masih saja berusaha untuk saling terhubung?"

Jika ada yang bertanya pada saya, manakah adegan pertarungan di anime terbaik tahun ini, maka jawabannya akan berkisar antara Arararagi melawan monyet, Batler lawan Beato, dan tentu saja, ini: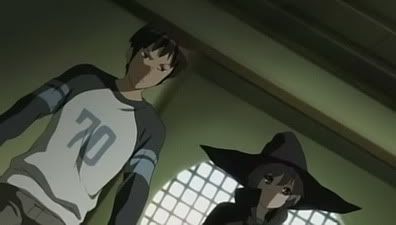 First, I summon Kyon the deadpan snarker into battlefield in attack position
I end my turn.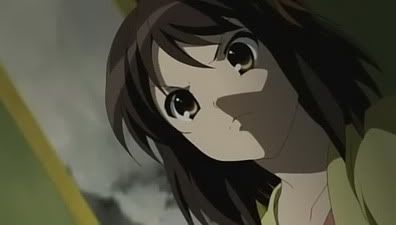 Then I summon Haruhi The Tsundere Goddess.
I activate my spell card.. Tsundere Mystic Eye of Death Submission
(what a lame pun)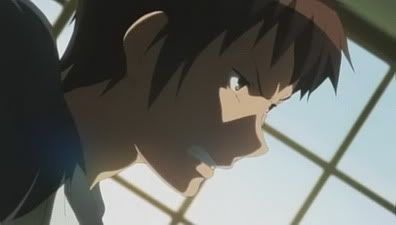 Kyon auto-counter with now-you've-gone-too-far-my-waifu attack
(auto counter? there's no such thing like that)



1) Hit her
2) Don't hit her
3) Put it in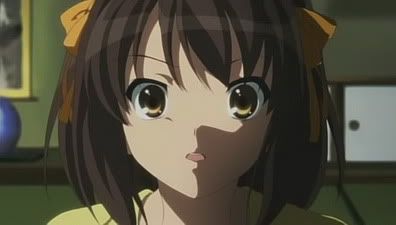 And suddenly, moeeeeeeeee~~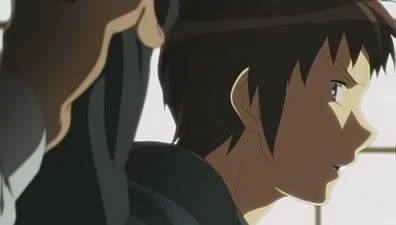 Lets just stop this awful screencap review, kay?
Too bad, benernya saya pengen liat apa yang terjadi kalo Kyon beneran menghajar Haruhi.



Masih belum seberapa benernya, karena di Disappearance lah ujian level atas untuk pasangan Mortal and Goddess favorit saya ini tiba.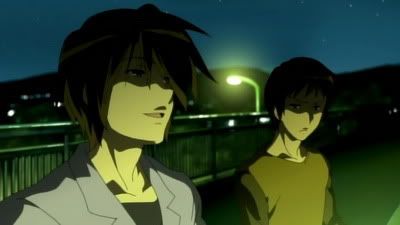 Perang ini telah memakan banyak korban...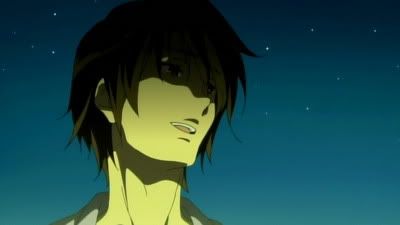 Otak manusia menginterpretasikan rangsangan dari panca indera untuk mengenali fenomena menjadi realita. Jika seseorang memegang sebuah jarum dan dia berkata "di lubang jarum ini ada sehelai benang" dengan cara sedemikian rupa hingga mampu membuat yakin audiencenya, maka mereka akan melihat benang itu benar-benar ada di lubang jarum.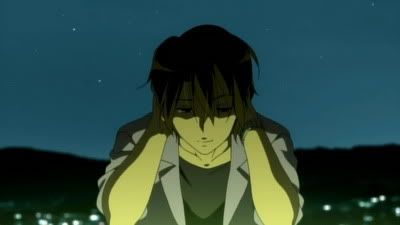 Seling-selang antara yang mundane dan special, yang serius dan konyol
macam inilah yang saya sukai dari serial ini.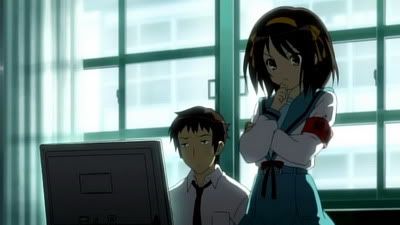 Sekarang kalian paham bukan, betapa kisah cinta yang mempertaruhkan nyawa seluruh umat manusia, bukan, selaksa galaksi dan alam semesta ini bukan sesuatu yang bisa dianggap remeh.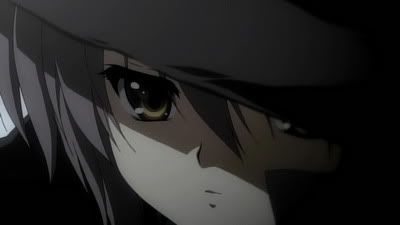 Ah, tentu saja fans Nagato masih bisa berdalih, dan Nagato memang bisa dipercaya, sayangnya cepat atau lambat dia akan tumbang, bahkan sebelum Perang Besar.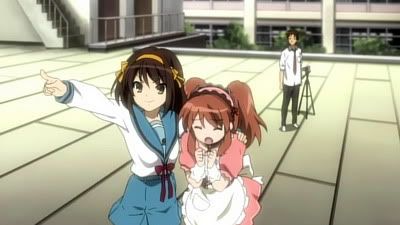 Lihat Mikuru, ada cowok telanjang jatuh dari langit!
Kyaa!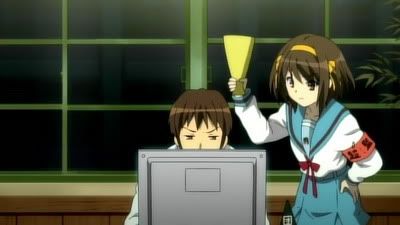 Bomb, Kyon, bomb!
Peluru kok banyaknya segini, gak masuk akal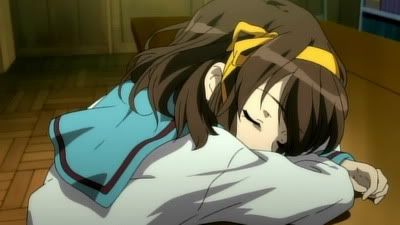 Ini adalah posisi tidur yang salah, tangan kanan anda akan menerima
tekanan konstan yang mengakibatkan peredaran darah menjadi tidak lancar.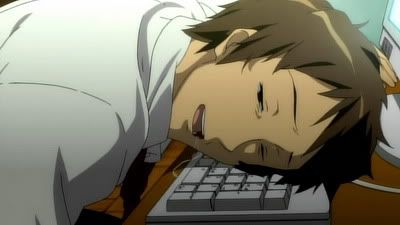 Ini adalah posisi tidur yang benar, kepala anda akan mendapatkan sandaran tanpa memberatkan tangan dan kelebihan air liur juga akan tersalurkan dengan benar.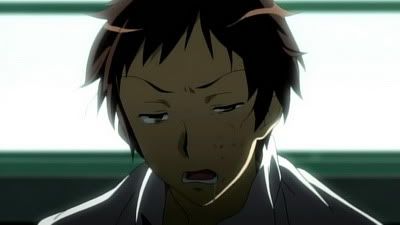 Bisa anda lihat di sini bagaimana posisi tidur yang benar akan membuat anda bangun dengan wajah yang fresh, segar dan siap menghadapi hari yang penuh kesibukan.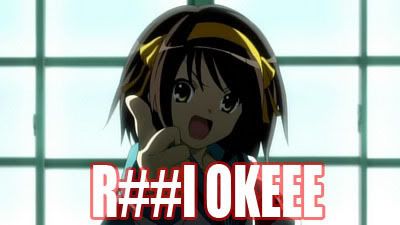 Sementara posisi tidur yang salah akan membuat anda menjadi gila.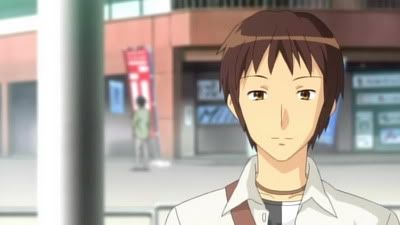 Yo.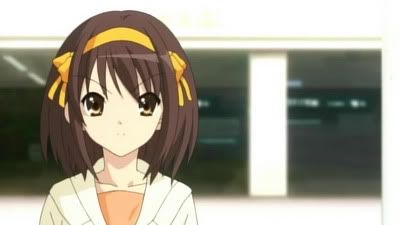 Hey.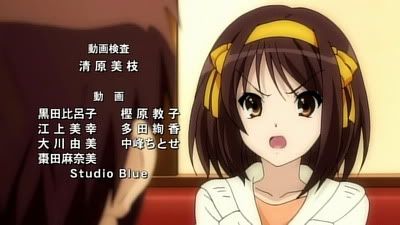 Jadi menurutmu Disappearance bakal tayang?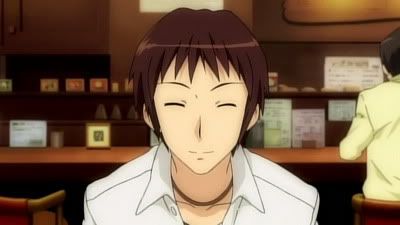 Tentu saja, Desember. Tepat diantara natal dan tahun baru,
sesuai dengan setting cerita.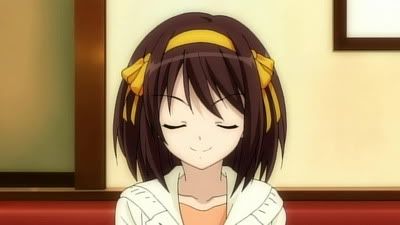 Begitu.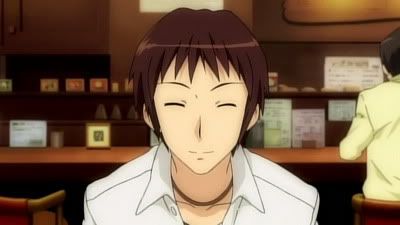 Begitulah.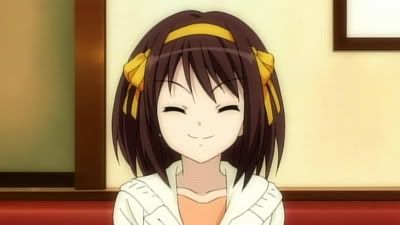 Yakin?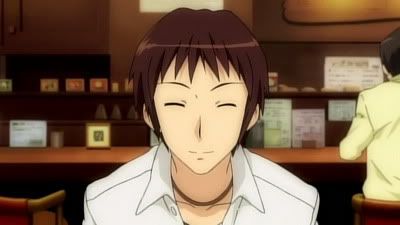 Yakin.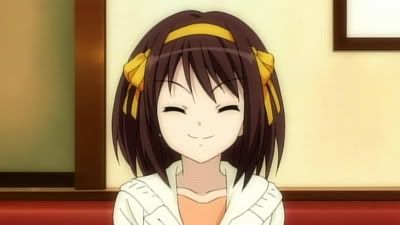 Yakin banget?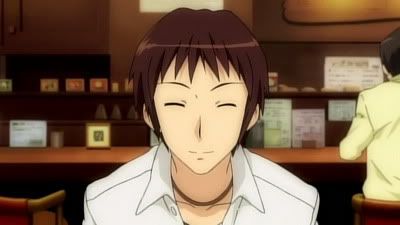 Yakin banget.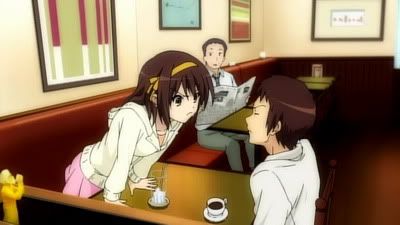 IDIOOOOOOOOOT!! KATA SIAPA BAKAL ADA SEASON TIGA?!!!



hehehe..



Kata "hehehe" di atas adalah sebuah petunjuk. Ingat? PE-TUN-JUK. Season tiga, winter tahun ini. Kalo tebakan saya salah, anda boleh bawa pulang satu kardus berisi CD PS satu saya yang terlantar di gudang.