Hi and, uh.. welcome again to this weekly post *cough*cough* my health is kinda bad but its still nothing compared to my heart, get it?
health? heart?
meh whatever, let's the show begin.
It seems that our theme for this week is still about couple. You know, the best thing about shipping couple in anime is that you won't feel rraaaeeeegggg when you saw those lovedovey awwwwww scene. Contrast to what you feel when you see the same thing
in real life
.
I'll skip Tokyo Magnitude since I'm not in the mood to talk about how awesome the mechas in the modern industrial country.
Kisahantu/Fiksiluman
eps 07
Susah sekali mereview anime ini tanpa mengindahkan banyaknya godaan-godaan dan humor mesum namun tersaji dengan smart yang bertaburan berhamburan sepanjang episode.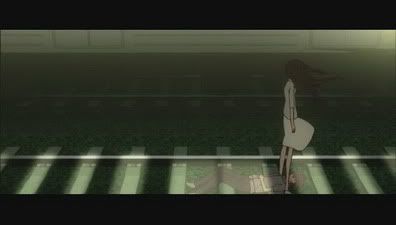 Anda mungkin pernah melihat ratusan kali adegan di mana tokoh utama cowok berkata "panchi ga mieta zo" atau "Oi, I can see your panty, you know? tapi pernahkah anda melihat adegan tersebut yang melibatkan rel dan kemungkinan satu banding dua terlindas kereta api?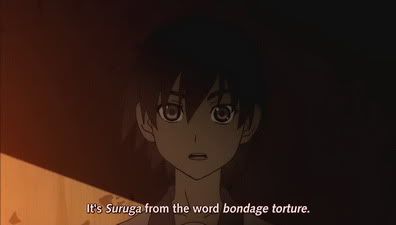 Atau pernahkah anda mendengar joke tentang bondage yang melibatkan
punny name?
And its not just a easy moodo bondage but complicated hanging bondaeg ohwoaw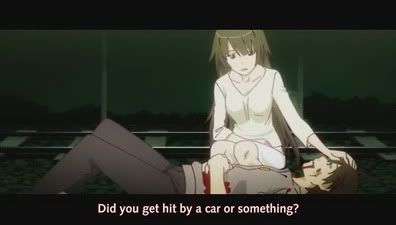 Anime ini tidak hanya lucu, intellectually perverted, but also.. romantic.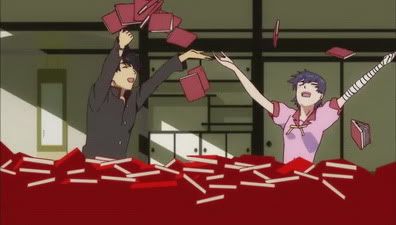 BAKEMONOGATARI BANZAI!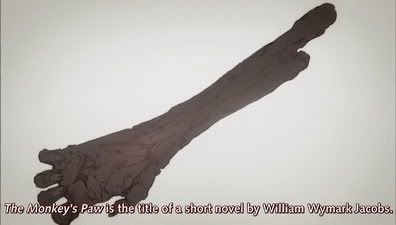 And also a damn great manga that once scanlated by Kotonoha loooooooooooooooong time ago.
Oh and this is also a great chatting game when you don't have something to do. For example, like this:
A: I wish I could meet Aya Hirano-sama in person
B: granted, but she'll think you're a stalker and you got arrested. I wish I could have a new laptop
A: granted, but all of your harddisk broke before you could copy your data to your new laptop.
I wish I could visit Japan and live there for a year :3
B: granted, but you'll accidentally entered gay bar and got raped. I wish I could have handsoem buttler liek Kaname XD~~~
A: granted, but you'll then have to marry with his owner, which turn out to be a granpa liek Kinzo. I wish I could be your boyfriend *wink*
B: granted, but you'll dead before we married and take my virginity.
See.. omoshiroi desho? omoshiroi deshouu? you should try it.

Oh, back to Bakemonogatari. Yea like I told you before, every girls in this anime are vulgars. But hey, that's what makes I like from them. Vulgar girls rockz!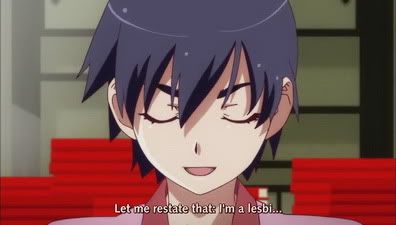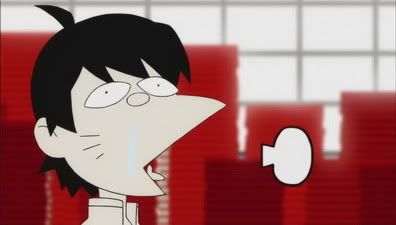 ...and of course SHAFTCENTRIC visual style
And moe-blending elements. I'm glad that I'm not the only one who feds-up with the moe stereo nowadays. We gotta make some countercounter-culture. Btw photobucket deleted the staples body and bondage picture above so I have to upload it to another site, ohwow.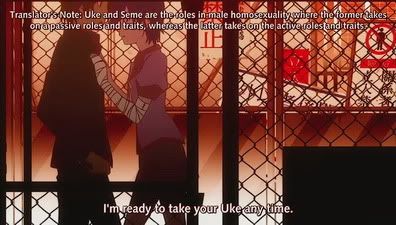 There'll be a time when SEME and UKE aren't exclusively fujoshi lingo.
I'm sure of it.
In conclusion, this anime still awwwsoem as usual, no wonder there's much Bakemonogatari doujin at C76. And I love this hand pose.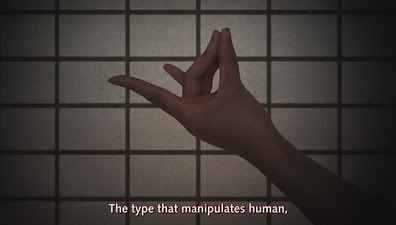 I bet she's talking about type of girls.
Suzumiya Haruhi no bukan endless lagi
eps 2 LOL
I'll pick this
capture
for the most romantic scene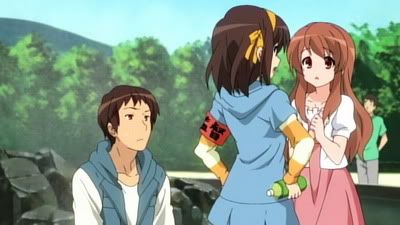 So, we're now on the second part (of ??) of Sigh, dengan anak-anak brigade masih membuat film, atau tepatnya commercial break. Its very funny seeing how people reacts to Haruhi's supervising power.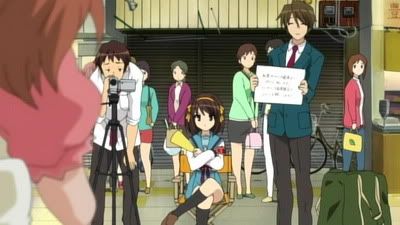 Mama, mama, itu apa?
Shh, jangan tunjuk-tunjuk.
LOL
Perfect dream girlfiend, she is.
spoiler
: Mikuru is dead, probably killed by some girls who could turn into flying stake (ohwow)
Haruhi: "Telat ya telat, bayarin makan siang pokoknya"
Kyon: =__=
Haruhi: *liat warna jaketnya Kyon* "Yah, ongkos bisnya biar aku yang bayar deh"
Another fluffy moment that wasn't on the novel. Nice job, KyonAni.
Phantom Requiem ...dst


eps 21



Nice to meet you too, Cal onee-san :3
selesai.
Horo The Waifu

eps 07

I'll pick this capture for the most romantic scene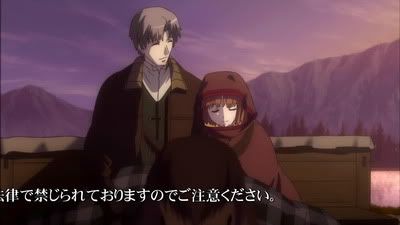 NAAAH, the most romantic scene of this episode is this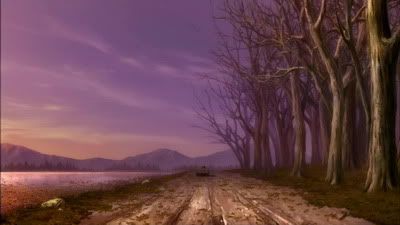 INSTANT WALLPAPER
could be instant wallpaper too, but the white text ruin it +_+
Basically eps ini adalah filler yang sangat amat fluffy dimana Lawrence blushing

Actually, its just cold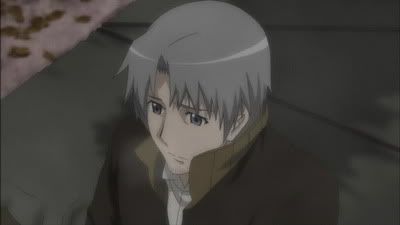 Kondisi yang sama dengan yang sedang dialami penulis saat ini btw *cough*cough
Shipper HoroXLawrence bakal sangat menikmati episode penuh rayuan gombal Lawrence dan counter rayuan gombal Horo di sini.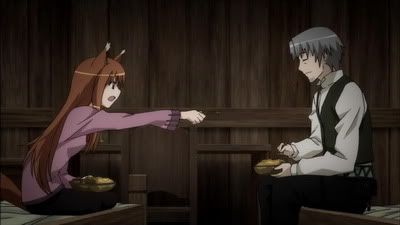 "Jadi menurutmu aku kekanak-kanakan?"
"Lebih parah lagi, jika sudah diperingatkan anak-anak
tidak akan mengulangi perbuatan buruknya lagi, tidak seperti kamu"
LOOOL
Let's fill this post with moar loevv :3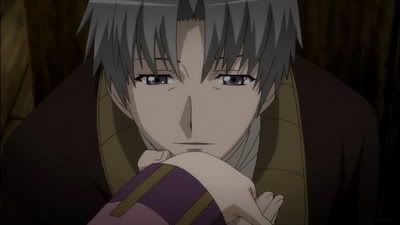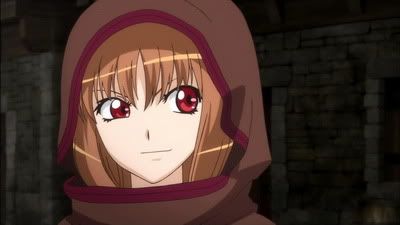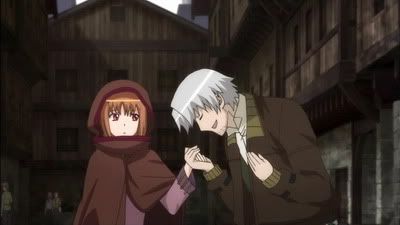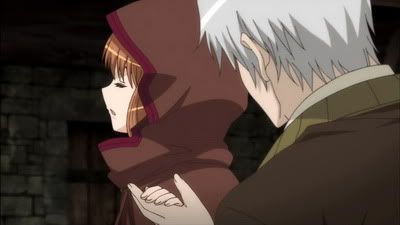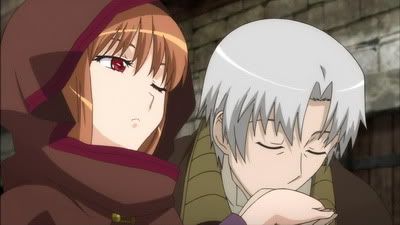 next, it's not just Horo's hand that Lawrence kiss
(but you have to wait till season ELEVEN cos this dude is waaaaay
too slow. Oh come on mister, she has boldly state it)
this episode is so sad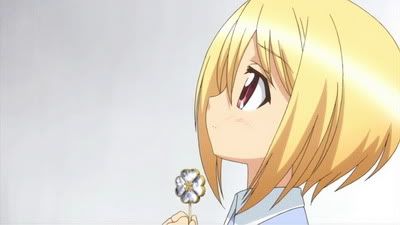 it's really sad you know? I creid liek a girl when watching it ;_;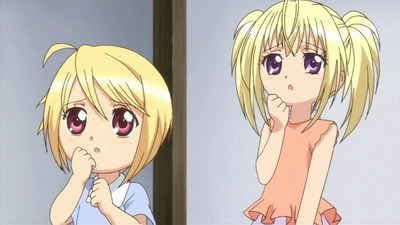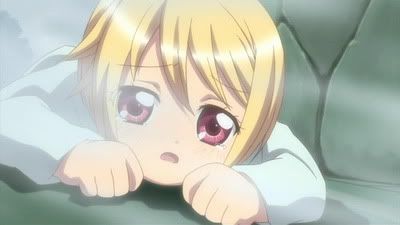 no, it's not because shota tadase but ikuto's story
its so emo, you know, in anime being emo makes you looks handsome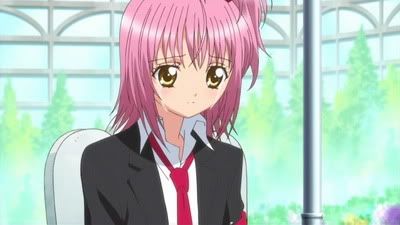 the appearance of loli utau isn't very helpful either
and look, even a hot and spaisi tsundere liek Amu is crying too
and here, just like previous eps, Yaya finally show her strength. WOW
you know, I finally know that in this
anime
life, everyone has their own plus
Yaya, being the only one that didn't catch the emo syndrome, stands up and said: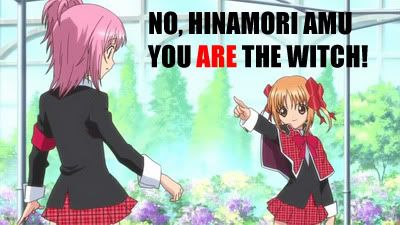 and, eventhough she's died in the end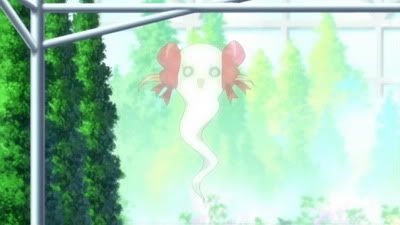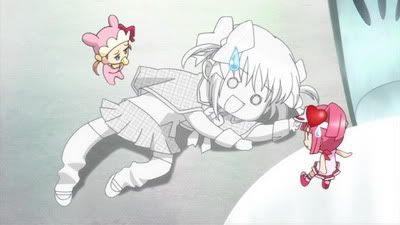 Yayayayaya: d-dame da... yappari majou wa.. tsuyoi..*UARGHHHHHHHHH*
but Yaya's death have a big role for the team to finally gather-up their courage and stands up once ready for the FINAL BATTLE!1 OH YEAH AKHIRNYA SHUGO CHARA BENERAN MAU TAMAT!!111111
extra dungeon dulu, buat dapetin senjata sama summon terkuat
next week: Nadeshiko re-awakened and Nagihiko will become double persona user aka futanari.
terakhir, yap, apalagi kalo bukan

ARTIKEL MAJALAH GHAIB: Satu keluarga korban pesugihan
eps 8
most romantic scene for this episode? hmm...
this one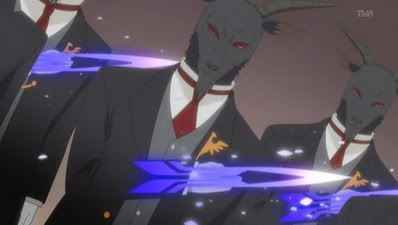 goatse-kun, attaaaaaaaackk!!!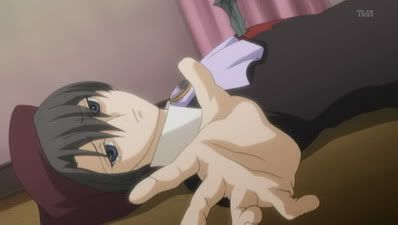 milady... before I died... let me... let me squeeze that (beep) for the last time... UAAAAAARRRGGHHHH
You know, I feel that just like every creator progress their "theme", Ryukishi07-sensei seems also showing this one. For example, Key's Jun Maeda with Kanon (childish love/friendship) => Air (mature relationship/family) => Clannad (family/marriage). After having children, Hosoda Mamoru's (Toki wo Kakeru Shoujo) new works, Summer Wars, is more focused on family than teen raabu story. Umineko seems like a big shout of "
Impossibile arrivare al vero segreto se non ci si accorge di tutto l'amore" (hanya dengan cinta kamu bisa melihat kebenaran yang sejati)
, just like Higurashi's message of "believe in your friend if you don't want to end up screwed-up". Having said that, does this mean that this blog someday will focused on something more bland and booooooooooooooring? I'll say it in red.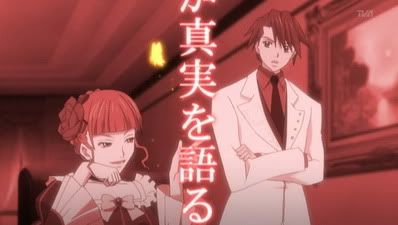 That would depend on what kind of princess I will finally serve.
When worse comes to worst I might blogging guro, ahahahahahaha (beatto laugh)