Selamat malam, para pemirsa yang budiman. Atau yang tidak budiman. Tapi terutama yang tidak budiman, karena jika anda orang yang budiman maka sebaiknya anda jangan mampir ke blog ini. Seperti biasanya kita akan mereview anime-anime yang ditonton di malem minggu yang sunyi sepi gelap senyap ini. Seperti yang bisa anda tebak, mood saya sekarang sedang tidak bahagia (tidak, anda tidak perlu peduli dengan hal ini), dan saya menulis post ini dengan diiringi OST dari Phantom Requiem of The dan seterusnya...
so yeah
.
Kali ini, sayang sekali, tapi tidak akan ada Shugo Chara (episode 94) karena rawnya terlambat dan baru keluar saat saya hendak meninggalkan warnet. Anda tahu sendiri kan seberapa cepat pun speed download torrent anda tapi jika barang yang anda dl baru saja keluar dari oven, otomatis seednya masih sedikit dan kecepatan download tidak bisa maksimal. Mengenai Tokyo Magnitude 8.0 (episode 4), sepertinya ada seseorang di antara jejeran staff anime itu yang satu fetish dengan saya. Hmm...


Kisahantu
eps 05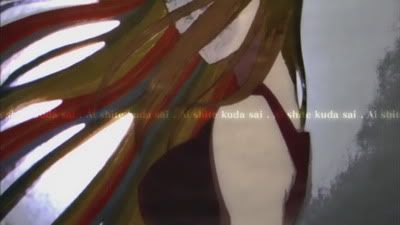 Aishite kudasai Aishite kudasai Aishite kudasai Aishite kudasai Aishite kudasai



Close up dengan line art yang bersih dan tegas. Harusnya ini ciri khas punya I.G, tapi SHAFT juga bisa melakukannya. Dan, karena lebih cenderung ke bishoujo daripada relatistis maka hasilnya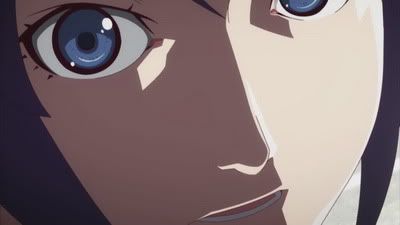 Awesomeness
Semi Realistic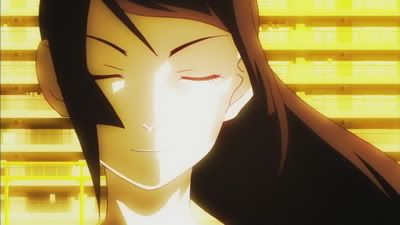 Moe
Di episode ini, masih sama seperti eps-eps sebelumnya, karena kasusnya si loli maka sampai pertengahan episode tidak ada sesuatu yang "spaarkling", barulah saat Senjouhagara, cewek dengan ludah berisi 50% kata-kata vulgar dan 49% sexual reference datang, percakapan khas antara cowok setengah waras dengan cewek setengah tidak waras anime ini dimulai. Dan bicara soal drama, SHAFT kalo pas romantis memang tidak pernah setengah-setengah. Episode ini memuat satu diantara sedikti adegan yang bisa dimasukkan dalam kategori "
best love confession scene ever in animu
", dibanding adegan oh-so-cute/moe/shy/whatever, cewek dengan initial weapon staples ini langsung menyatakan cintanya pada cowo setengah vampire.
So sudden, so random, so out-of-scene;
SO AWESOME

and the reaction is..


99.9999999999999999999999999999% the same reaction I'd do if I were him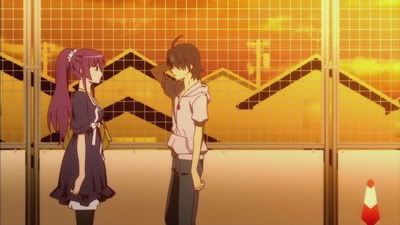 and why?
why.. hm.. because I love to kill you and you are immortal?
we're made for each other
is that so...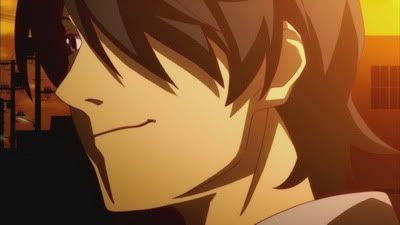 yea, I love you too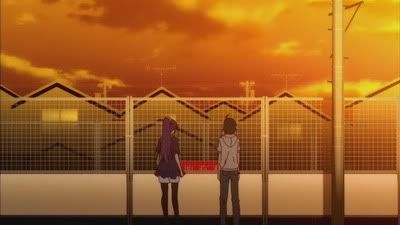 and thus, a legendary couple was born
YAY~~~~~~~ OMEDETOU OMODETOU!

However, from this point onward, sepertinya cerita bakal mengalami sedikit penurunan, kalo prediksi saya. You see, sekeren-kerennya serial ini, Bakemonogatari diadaptasi dari light novel yang bagaimanapun bakal kecipratan saos harem. We'll be seeing new girls and one of them will fall in love with the main guy and.. yeah. Meskipun nanti cewek-cewek yang baru juga tidak akan kalah psycho nya (dari yang saya dengar) tapi saya harap tidak merusak cita rasa drama ini.

Phantom Requiem of The Phantom
eps 18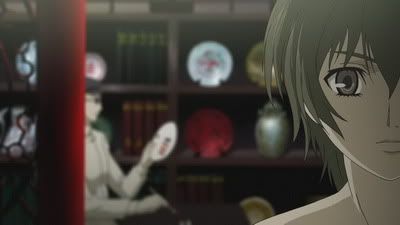 Watashi wa.. EINNNNNNNNNNNNNNN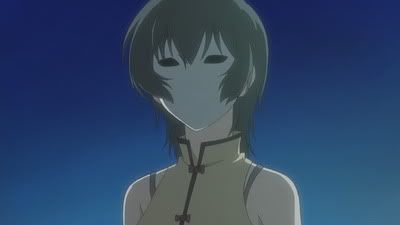 Ah ternyata saya salah, pakaian Eren yang asli memang seperti itu, baju yang dipakai di eps kemaren adalah bagian dalemnya, luarnya tetep yang cheong-sam
Episode ini benar-benar episode yang memuaskan. Mungkin awal-awalnya cukup bikin ngantuk, tapi di tengah-tengah, musik-musik oh so tragic latin chanting ftw dan oh tidak tragedi.. oh no.. and people died.

Including Clau-nee, OHNOEZZZ WHY SCRIPT WRITER WHAY?


Tidak.. tidddaaaaaaaaakkkkkkkkk dan kemudian Zwaai berjalan ke arah tempat yang penuh kenangan (oh so dramaaatic) dan Ein/Eren/whetever muncul, dan oh noo.. kenapa kita harus bertarung Erennn?? Kenapaaaa?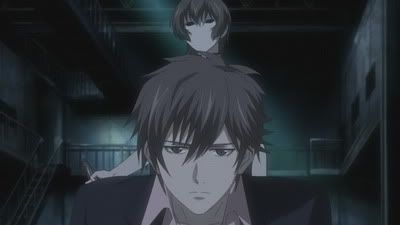 mungkin ada puluhan judul anime yang memakai plot seperti ini, but hell, seperti kata iklan McD; I'm loving it!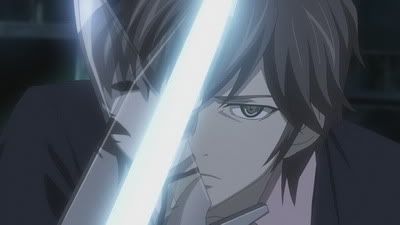 oh the irony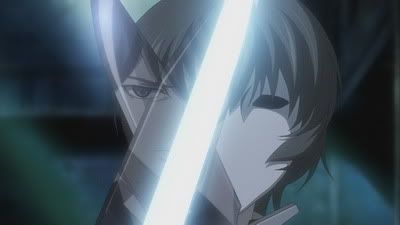 oh the dramaa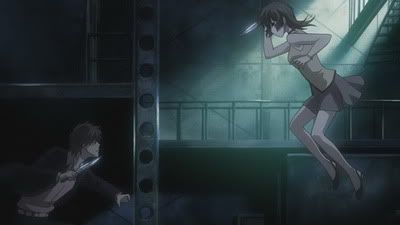 kencengin lagi lagu choirnyaa, naikin volumenyaaa XDD
kill me, Eren, kill meee.....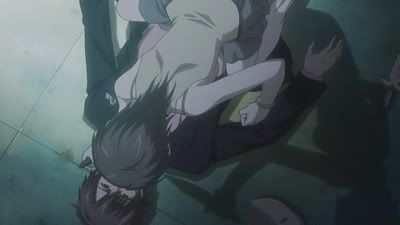 I can't... sob sob sob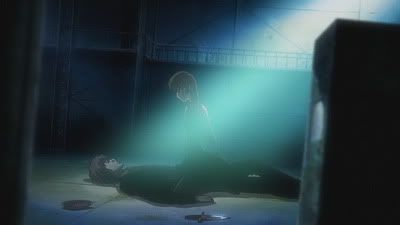 sob sob sobsob sobsob sob + awesome seiyuu skill + bgm yang mendayoe-dayoe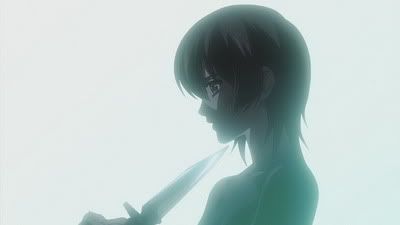 No.. I should.. I should be the one to die...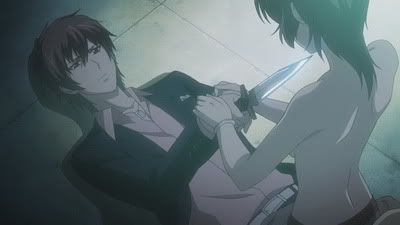 Reiji.. kill me...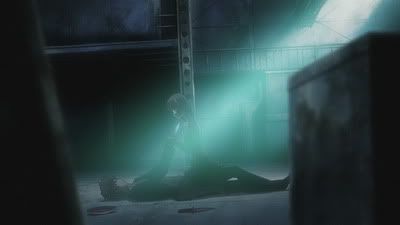 KILL MEEEEEEEEEEEEE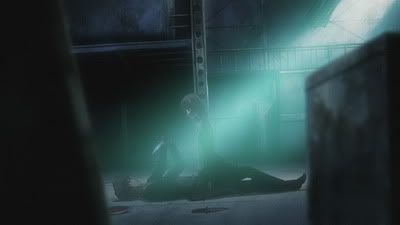 No, I should be the one to die... (lah?)
Nakanaide EREEEEEEEEENNNNNNNNNNNNN


dan...

...ternyata tidak terjadi apa-apa tuh =_________=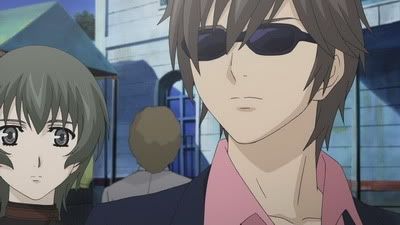 semua masih sehat wal afiat (terus buat apa adegan yang tadi itu?? +_+a)



Sia-sia saya ngeluarin tissue, eps minggu depan: loli yang ternyata masih hidup (oh plot twist lol) mencari Reiji dst.



Pandora Hell




eps 18





Dari semua episode yang saya tonton malem ini, sekali lagi tetep Pandorra Hearts lah yang paling bikin saya ngakak. Tapi sebelum anda membaca lebih jauh lagi, harap diingat kalo postingan di bawah ini sangat amat ngaco dengan ecchi level sekitar 89/100. OK? lets rawck.




Episode dimulai dengan Raven dan B.Rabitto yang sedang terengah-engah dan mendesah di balik semak-semak (dan saya yang menahan diri untuk tidak memukul layar monitor, what are you doing to my Alice?! get off your dirty hand from there, faggot!)

lalu Alice... er... well... she.. I'll leave it to your imagination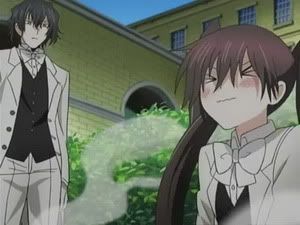 and then she came
"I came!"
and after that, she went batshit and runs..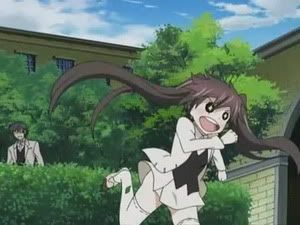 Oi, Arisu, mau kemana lo?

brb raping my servant


Raven the fag berusaha mengejar Alice but OSHI- dia dihadang oleh horde of horny fangirls.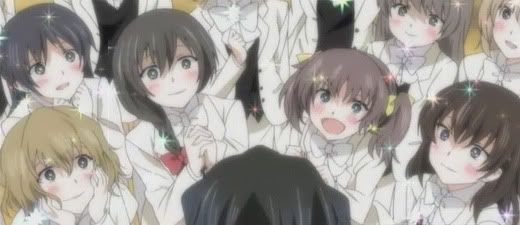 Kya kya kya we're going to raep you *heart*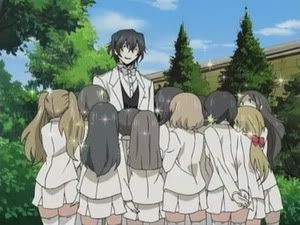 Er, I don't think so, ladies, this anime is for kids (and emo masochist)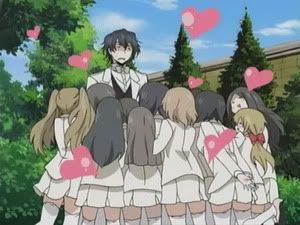 We don't mind, we don't mind, kya kya kya *heart x3*

..and then Raven was

dead by sex


In other place, there is kitty, ah, sorry, two kitties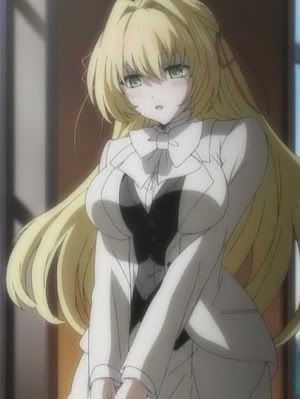 and two... ribbon, yeah, two ribbon.
lets take another look at the ribbon.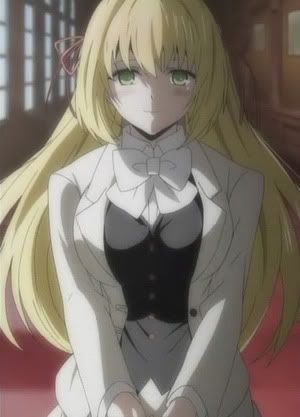 ohhh what an awesome ribbon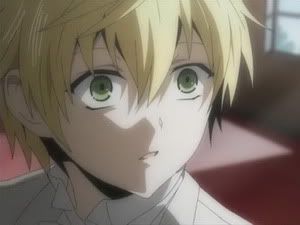 a common reaction from a healthy male: oh.my.god!
(but she's my sister, er, my older younger sister..
er, younger sister grows older.. whatever)

Dan tiba-tiba! OHSHI-! A prettyhotdamnawesome villain onee-san come and kidnap the imouto!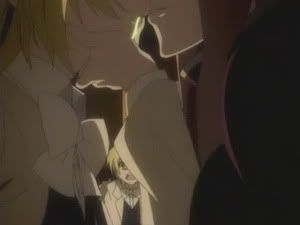 me: oh man thats a pretty hot way to poisoning someone
my friend: stupid, some of the poison might get swallowed too.
me: but I have the antidote, and its dramatic!
my friend: *facepalm*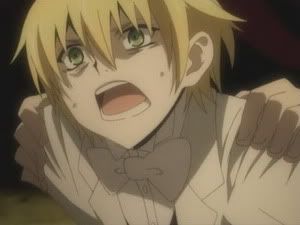 you prettyhotdamnawesome villain onee-san!
what are you doing to my sister, er, older younger sister..
younger sister grows older.. whatever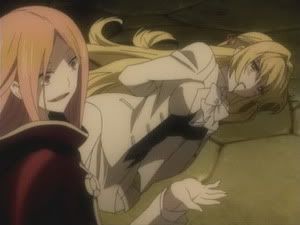 fufufu... this is the most wonderful poison ever created in anime, this poison is deadly but the person who drink it, for some reason I don't understand, will be animated like horny bishoujo in ero anime.

and now, there will be the ero scene that the viewer waiting for,
but before that I have to get you hard first.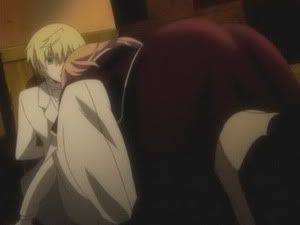 *lick lick slurrpppp*
di tempat lain, Alice forget her mission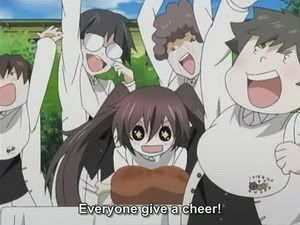 Time for some OMNOMNOM
Being seme needs a lot of energy, you know?
balik ke Oz
hehehe.. now for something that makes this series' rating go up..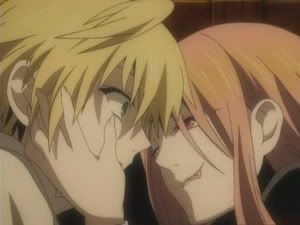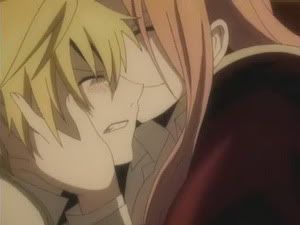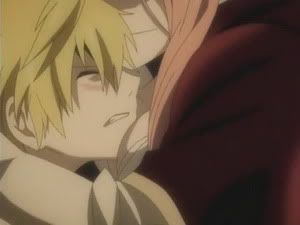 saaa... Ozu Bezariousso, put it in!
No, onee-san , I'd rather do it with you!
Fufufu... so you're swing this way
(its better to swing
this way
than to swing
that way
, right?)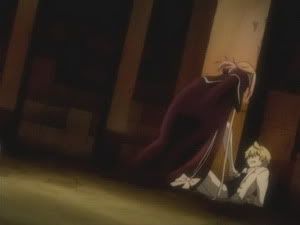 you know, I really don't know what to say here..



and don't imagine Oz licking her feet





Producer-san, producer-san, is this anime really for kids?
No, its for people who have too much time alone in Saturday night.
Nyoroooooooooooooooooooooooo~n



Dan seperti biasanya, ketika adegannya hampir jadi keren, selalu ada pengacau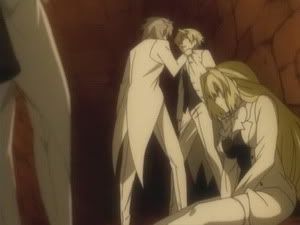 Are you stupid?! Don't you know that most of our viewer are fujoshi?
They want to see boys and boys hot yaoi action! Not some awesome SM shit!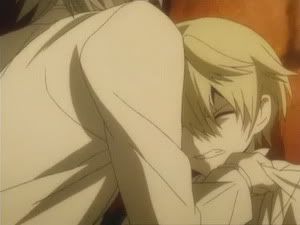 B-but I don't want to.
Then you shall be raeped.
Nooo, Aliceeeeeee tassketeeeeeeeeeee
to be continue
We shall see if Ozu can still keep his virginity next week. Now I shall wait till someone come and kill me for turning her one of favorite series into something wonderful like this :3 See ya on the next review!