Selamat datang kembali di acara mari me-recap anime yang ditonton minggu ini. Jangan khawatir, kami tidak memasang bom apapun di blog ini, sehingga anda bisa membrowsing dengan tenang. Ok, let's get started since I'm getting quite sleepy now.
Shugo Chara
episode 92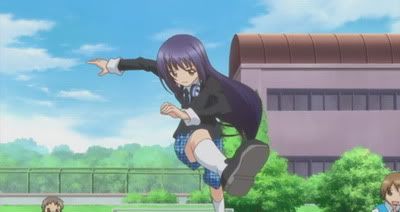 HAHAHAOHWOW

Akhirnya, ini yang, kalo saya boleh bikin istilah sendiri, dinamakan dengan un-trap. Sekarang tidak hanya menjadi kuu-ru sugiru, tapi Nagi juga dapet tambahan aksesories which is headphone (ftw). And look at what he can done to Amu.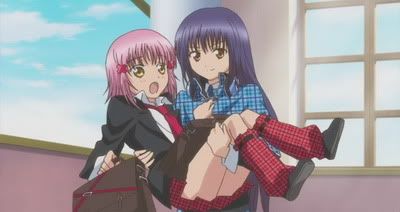 Moral dari cerita ini: Ketika cowok feminim serius, then he'd be able to rape even a tsundere.
Awesome, Nagi boy. You rocks!




Update 2

: Jika Shugo memang benar akan berakhir, tampaknya inilah key character terakhir anime ini. Tapi sebelum itu, mari kita data terlebih dulu barisan karakter dari anime yang penuh dengan what do you mean its not erotic ini.


Hinamori Amu


Awesomely hot gothpunk easy level tsundere
Also comes with 3 different type; sporty, feminy, artsy



Hotori Tadase


Adorable Shota Ouji-sama
Btw his skill is called WHITE DECORATION!! oh.my.god.



Tsukiyomi Ikuto


Nekomimi cosplay hentai otoko emo bishie that will almost but never rape you anytime
Also loves to licks anything (well, he's a cat, yanno?)



Tsukiyomi Utau


Awesomely hotter than Amu, gothic lolita idol with twintail and moderate level tsundere
Also comes with 3 different persona; the hotter than hell red little devil and lovefreakpsychotic angle in white



Fujisaki Na/gihiko/deshiko


ex-trap that is nao a kuuru gentleboy with headphone and straight long smooth silky blue hair
don't be fooled with his feminine attire, his ability in sports means that he has a great stamina



Soma Kukai


Hot blooded shounen with high spirits shota charm
Believed to have affair with adult bijin onee-san (damn you lucky brat)



Yuiki Yaya


Unworthy loli junk childish baby blaarghhh



Yamabuki Saaya


Moderate rich vixen ojousama with initial laugh and hot red perm hair.
Have four (if I'm not mistaken) loyal servant, they're all female though.



Mashiro Rima


Melancholiac deadpan ojou-sama with humor as her fetish and lots of male servant
Also expert in bondage and using ropes



Sanjo Kairi


Tottemo serious megane shounen that will makes most of the girl in the school wets
Also had a probaly incestuous SM relationship with his big sister



Nikaidou Yuu


Your very kind and yasashii sensei, tough a bit clumsy and ditz
Actually has a dark past, a very dark past, srsly. Is now in a relationship with Yukari (as uke)



Sanjo Yukari


Hawt megane onee-san ftw. Very strict when work, very lazy when in home.
Kairi's big sis. Utau's manager. Is now in a relationship with Yuu (as seme)



Lulu de Morcerf Yamamoto


Super rich ojousama with the 'stern and strong but actually so fragile' classic appeal
hard level tsundere



Hinamori Midori

(Amu's Mom)
Hot shoujo mom



Hinamori Tsumugu

(Amu's Dad)
Terrible shoujo dad



Hinamori Ami

(Amu's little sis)
...um, no. No, thanks.



Amakawa Tsukasa


Kinda like upgraded version of Tadase, with more mature looks but still an uke.


Oke, sekarang setelah terdaftar (hampir?) semuanya, ini karakter barunya




???
Totally shota-er than any shota in the series, oh how I wonder now,
how low a fangirls can go?
Btw Nagi skill is rase- oh wait, but its blue, so chidori-rasengan?

And next week is Utau episode, oh yeaaaahhhhhhhhhhhhhhhh


Umineko no Naku Koro ni
episode 03

Hm, I just want to place this screenshot here, actually :3
There will be a spesial entry for this anime... soon.

Zan Sayonara Zetsubou Sensei
episode 02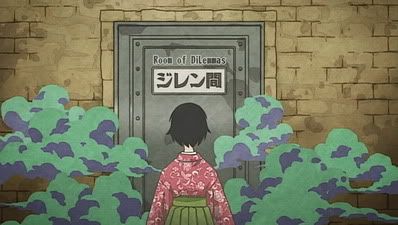 Selamat datang di ruang dilema, di sini anda harus memilih apakah
a) hidup di dunia yang sengsara, ataukah
b) mati

Perfecta! Ini seperti tahun 2007 ketika saya dimanjakan Gonzo, 2009 ini Shaft memanjakan saya dengan dua title yang diputar bahkan dalam satu musim. Dan seakan masih belum cukup, sejauh ini fansub animenya berjalan dengan kecepatan dan detil translasi yang sangat mengagumkan.



Tokyo Magnitude 8.0




episode 02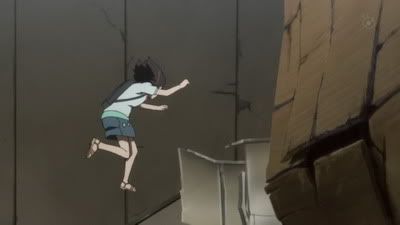 Diantara jajaran anime musim panas ini, inilah satu-satunya animenya yang bermoral (well, Shugo mungkin juga termasuk, tapi sebagian alasan saya nonton bukan untuk itu). Setiap kali saya menonton anime ini pasti mood saya sudah melawan duluan. Karakter utamanya tidak bisa direlate, latar cerita tentang gempa DI negara maju, temanya lebih ke arah keluarga, dll et cetera. Tapi seiring ke tengah konsentrasi saya semakin terbujuk dan terhanyut dan terhanyut sampai akhirnya menjelang bagian akhir dan bersambung saya akan mengehela nafas dan berpikir, oh man, I'm glad I'm still following this anime.

Meskipun demikian, kecil kemungkinannya saya akan membahas anime ini di sini. Seperti yang saya tulis tadi, anime ini tidak cukup sesuai dengan aura blog ini. Jadi kecuali kalo saya lagi jadi orang baik-baik, it will be just a brief review.




Bakemonogatari




episode 03





For I must die for what I've done... A twist of fate... a desert sun

For I see what I.. wait a minute, what's that?


Anda tidak butuh translasi untuk mengkonsumsi anime ini. Sebagaimana Queen's Blade yang memuaskan nafsu para penikmat fanservice, Bakemonogatari adalah parade visual panjang yang akan menghibur mata anda dengan warna dan corak, komposisi ganjil yang menawan, eksekusi fanservice yang nyeleneh, dan luapan chemistry yang aneh namun meresap dengan nyaman. Saya menonton anime ini bagaikan berjalan di sebuah gallery panjang, menghayati setiap frame dan, entah saya gila atau apa tapi seperti ada komunikasi yang kuat antara creator dengan audience, sesuatu yang bukan hal yang spesial memang, tapi di anime ini kesannya terasa sangat kuat. Lihat paduan RGB di sana, lihat angle itu, lihat tulisan ini.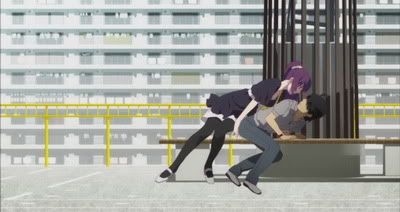 SHAFT memang selalu cenderung minimalis (baca: ngirit), tapi di anime ini hal tersebut justru malah menjadi kekuatan, karena sebuah dunia di mana hanya

aku

dan

kamu

saja yang penting, atmosfer dunia yang minimalis memang sangat nyambung.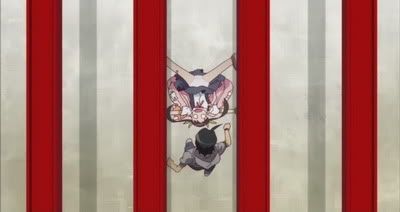 Anime ini juga mengajarkan kita bagaimana
cara memperlakukan loli dengan baik dan benar.





Pandora Hearts




episode 16



Pandora Hearts minggu ini tidak begitu menarik. Mainly karena Alice tidak banyak dapet jatah manggung, itupun separuh airtime nya dalam wujud B. Rabbitto, serta Gill yang berulangkali menggaggu kenyamanan nonton dengan adegan-adegan sok yaoi nya.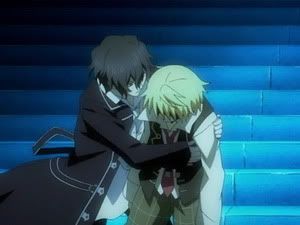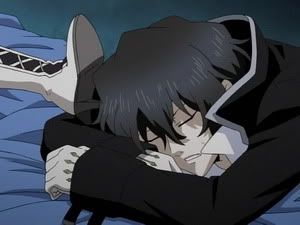 OHYEAH! kick him, milady!
kick him haardd XDD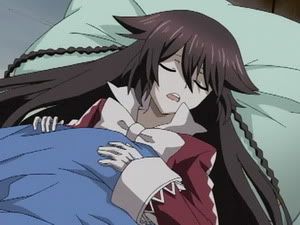 awww so cute :3
doesn't it makes you want to put in something?



However, the episode itself is not that fail, actually. Karena adegan dimana Oz kesurupan dan berubah jadi gigolo mode is quite lol.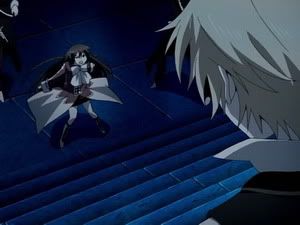 Alice: get outta there, jakku! you're pimping my servant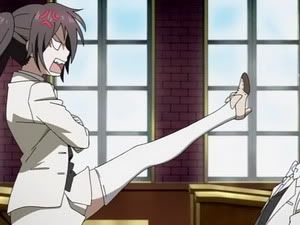 ..dan sepertinya episode depan adalah selingan?
no prob, at least we're going to have office lady Alice X3

Spice and Wolf
II
episode 02

Lawrence: "Dari mana aja, Say?"



Dengan berputarnya pusaran delapan tak berujung Haruhi, maka praktis tiga besar anime season ini jatuh pada Umineko, Bakemono dan Horo. Spice and Wolf mengalami peningkatan kualitas yang signifikan di season kedua ini. Character desain yang baru benar-benar pas dengan selera, er, standar saya.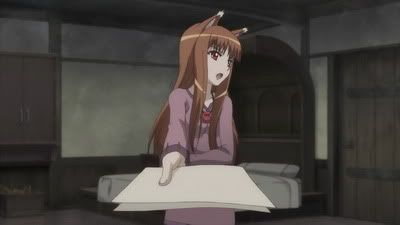 Cerita dan konten? solid. Conversation? graceful. Bahkan sampai cara eksekusi tsundere scene, yang menurut saya satu-satunya kelemahan di season sebelumnya? kali ini dihandle dengan sangat natural. Yet another perfecta!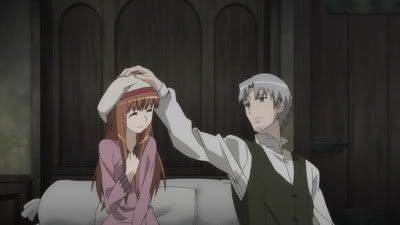 jangan tertipu dengan adegan ini.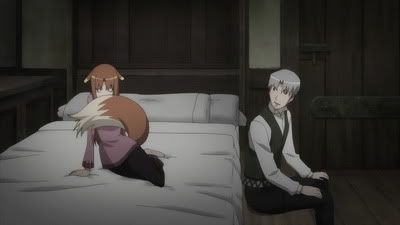 dan ini.



Satu-satunya yang membuat saya agak kecewa, meskipun saya tahu kalo it can't be helped, adalah fakta bahwa novelnya yang belum selesai bisa dipastikan membuat ending season kedua ini tidak tuntas. Tapi tidak mengapalah, yang penting selama sepuluh minggu ke depan saya bisa nonton Horo X3~~~~