Ok, so now I'm going to review Higurashi Live Action XDD ada yang sudah liat juga? kalopun ada, I bet you're just skip skip tru it and then goes meh, what the hell is this? yes, I heard that some people dislike (and encourage the other to dislike) the live action.
Let's go.
Movie dibuka langsung dengan theme songnya, Wheel of Fortune yang Higurashi bangeet (ya iyalah, secara Shimomiya Eiko geeto LOL) dan kredit kepada Ryukishi 07/7th expansion dan efek dua noda cipratan darah yang cukup membuat saya puas.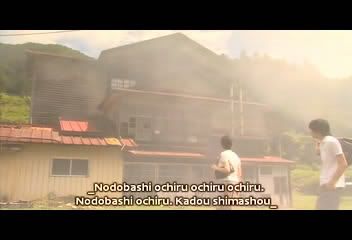 And then, of course, our main hero goes to Hinamizawa. This is the infamous hey I shot little kids with a gun lol K-1, he's quite a bishie in this movie, not bad.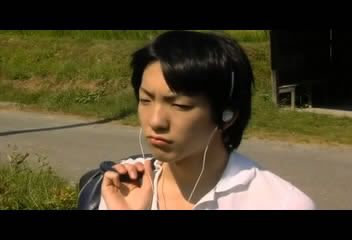 and this is Chie-sensei, waaawwwww O_O!!!!! holy zen, karakter gratisan dari Typemoon ini.. kok bisa dapet cast yang super keren??? how come? zomgwtfbbq!
lets do screencap one moar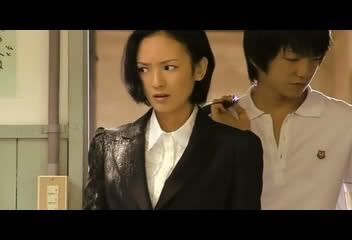 and this is our beloved little class, how come it is full of girls?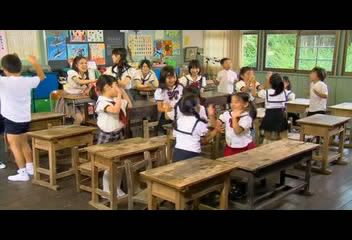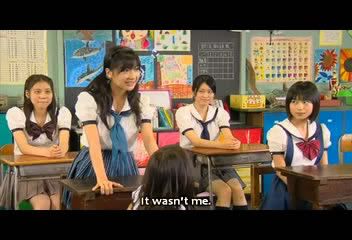 Hojou Satoko-chan, best, best, best adaptation cast in this movie. Saraba yellow short hair alien, twintails FTW~!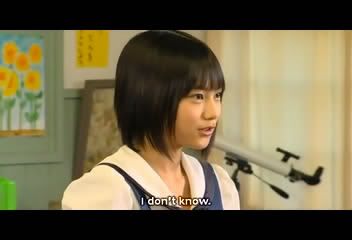 Furude Rika. Of course she won't say miii, or nipaa~~* here but instead of that, we have a super cutie, who, will and must be, killed and died in a miserable manner. Awesome, yes?
lets do screencap one moar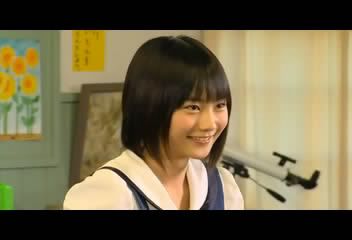 *smirk smirk smirk* you'll be seeing this kind of smile so much that it makes you go paranoid. Ah, girls are always full of secret, aren't they?
and this.... this... ...is Ryuugu Rena. Now, if I have to point what's the worst thing in this adapation, it's Rena's casting. Seriously, all the cast for the movie is actually good, except for three person; Rena, Miyo and Oishi (aka Mr. Delicious LOL) but above all.. why my Rena? whyy~~? and speaking character-wise, I feel very dissappointed at how they erased her happy-go-lucky personality in the adaptation. Ok, they can throw her hauuu~~ omochi kaeri~ off since it will probably make it looks ridiculously stupid and ok, good job for keeping the kana? kanaa? mode since I think that its still torelable too, BUT I didn't get the cheerful-psycho-girlfriend aura from the adaptation. That's not a hard thing to do, imho, with a lot of genki character in Japanese dorama. One more mistake that's not so annoying but actually it didn't had to be done, is how they keep Rena wearing hat BUT instead of the legendary white hat Rena wear a Misuzu-goes-to-the-beach hat (sorry, I don't know what its called LOL), oh come on, its only makes an out of place scene, imho they should just make Rena-chan hat-less.
now for the positive point, yes, actually not everything about this Rena is bad. In this adaptation, her oyashiro mode is STILL. HOT. AS. EVERR. even my non-otaku friend said that he'd never see a crazy school bitch like her before, LoL. OYASHIRO-SAMAAAAAAAAAAAAAAA GOMENNNNNAASAAAAIIIIIIIII XDDDDDDDDDDDDDDDDDDDDDDDDDDDDDDDDDDDDDDDDDDDDDDDDDDDDDDDDDDDDDDDDDDDD
and the USO DA!!1111ONEOENEELVEEENELEVNEN is soo coool, with the kanji flashes in a rapid microsecond (too bad, the movie repeated that scene once in flashback, coz I think legendary scene should not be repeated, it will make its epic-ness gone)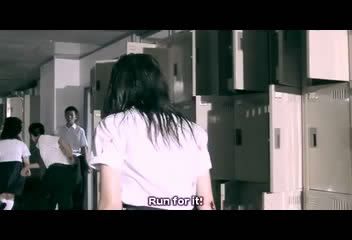 yea, run, baby, run XD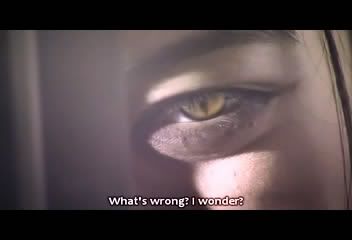 and the eyes! wohoo, not bad for omake
moar screencap for the now-upgraded-with-twintails Satoko-chan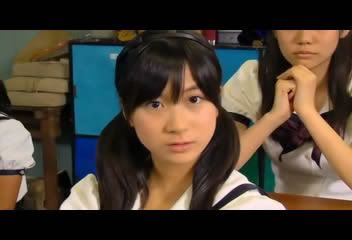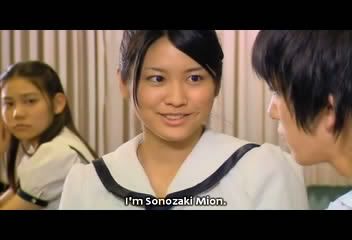 Sonozaki Mion. Ponytail reference kept, loses her gun (and her kinda looks stupid outfit too, thanks god)
boob size reference is also kept, yay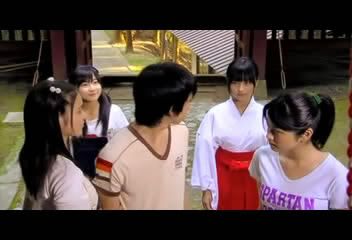 harem. err, psycho harem to be exact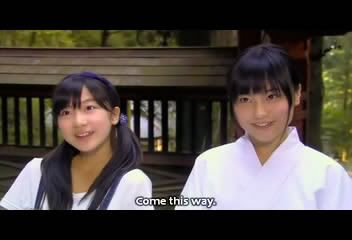 Here you go, miko fans. Also, if I look closely, Satoko is like a loli version of Horie Yui?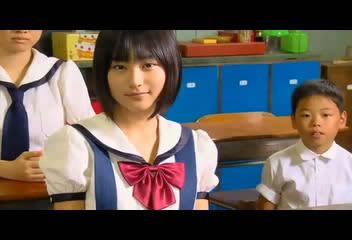 and multiply-the-cuteness-by-3.0-times-than-the-anime Rika-chan is like a loli version of Fujimoto Miki? btw that figuran kid is also looks scary lol
the moral question of Higurashi is always: will you risk your (pathetic, useless) life to get two girlfriends at the same time? no, wait, I think you don't have to live in Hinamizawa to have two GF and risk your life because of twotiming.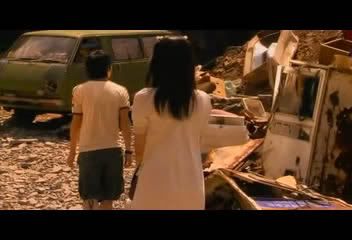 junkyard aka Rena-chan's house. not as "grand and glamour" as in the anime, maybe because it will cost too much budget to make the stage.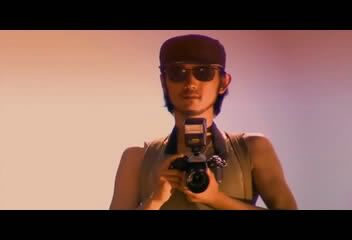 Tomitake-san. Er.. if I recall correctly, he didn't wear sunglasses in the anime, did he? he looks like hard gay in this adaptation, LoL.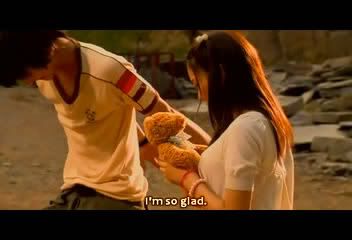 and instead of colonel sanders, Rena get.. teddy bear? hm.... this is good, but.. I don't think its so Rena.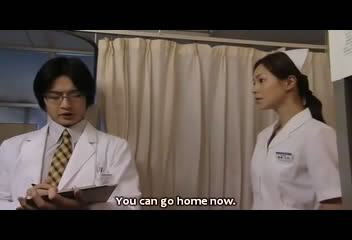 Yep, Irie-sensei the lolicon and Takano Miyo, the villai-- whoops, spoiler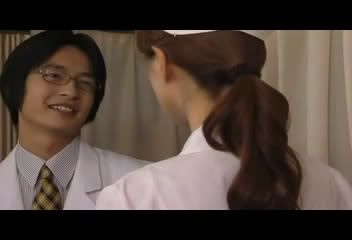 while Irie is still quite a bishie, but..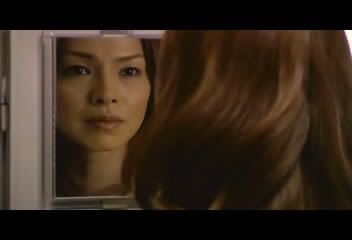 UWAAAAHHHH what did they do to one of the hottest villain in anime history???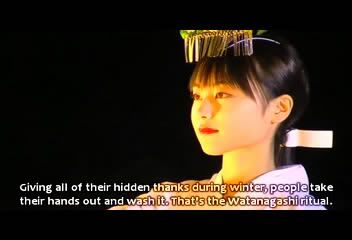 w-w-wow.. wowowowowowowow, is that Rika-chan? XD~~~~~ hotness, yea, I can understand when Keiichi said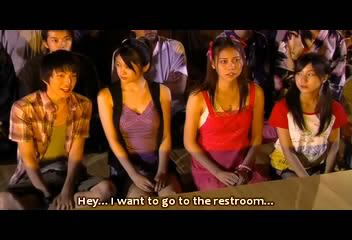 Hey.. I want to fap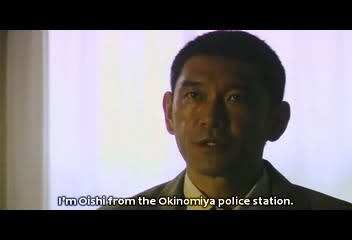 again, another casting that makes me goes what the? kemana perginya image pak polisi senior yang gendut tapi berwibawa seperti di animenya? heck even the actor's voice is not as heavy as the anime.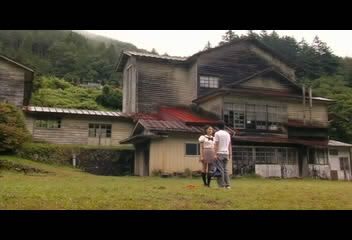 question: how do you make a carbonated drink?
US(e)SO DAAAAA!!!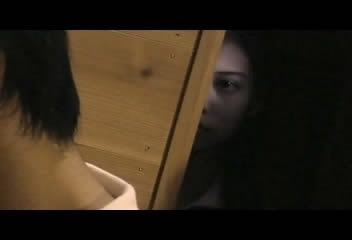 jreng jreng jreeeng XDD
and one more good things from the live action, they handle the ohage scene well, even better than the anime, imho. kids, do not try this at home.
another Mion hotness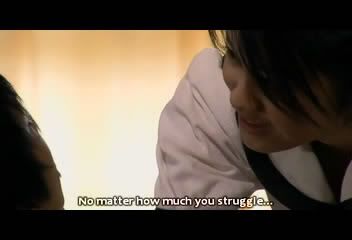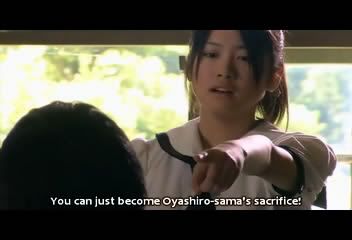 Like I said, the cast for all the harem character is good, only Rena that's ... +_________+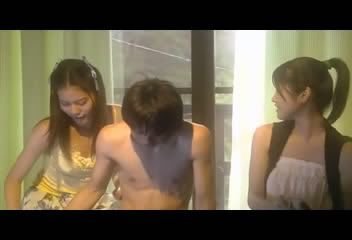 again, the moral lesson from higurashi is, if you're taking a bath with two girls at the same time, make sure they also take their clothes off, not only because its good for your eyes, but they might hide something like syringe, machete, hookbill, glass shard, cutter, razor blade, katana, chainsaw, excalibur, etc behind the clothes.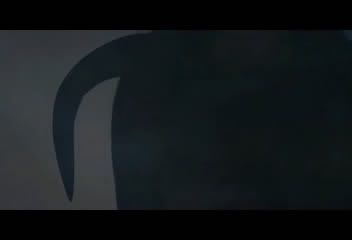 and.. OUCH... I get a bad feeling about this one.. let's hope they're not turning "her" into a ridiculously stupid looking cosplay girl in the adaptation =_=
And that's concludes the review of Higurashi no Naku Koro ni Live Action. Overall, I can't say that the live action is satisfying. but it isn't a total crap either. The next movie will be released this year, though God only knows when I'll be able to watch it. I know that the movie will adapt the onigakushi-hen but I wish I can see my fave, Shion in the live action X3 Also, I hope there will be more of Satoko and Rika goodies in the second part XDDDDDD~~~~~~
omake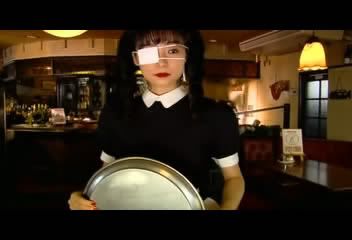 HOLYSHIT they changed the meido cafe in hinamizawa into a S&M cafe. GOODJOB!