Okay, so finally I managed to get another 3 new anime titles yesterday from my friend's place; Crystal Blaze, Nabari no Ou and the most highly expecting Alison tsundere-sama.

Yang pertama adalah Crystal Blaze, yang di luar dugaan ternyata enggak bagus-bagus amat (blergh, lagi-lagi saya tertipu oleh gambar di official sitenya >_>). Buat yang penasaran, kurang lebihnya anime ini bercerita tentang sekelompok remaja yang membuka kantor "jasa melakukan apapun" (basiiii) dan seperti halnya anime action standard lainnya, plot bergerak dari pekerjaan sepele macem mencari kura-kura yang akhirnya berurusan dengan sebuah organisasi yang mengangkut cargo yang pada akhirnya diketahui bahwa "barang yang diangkut" itu adalah (apalagi kalo bukan) cewek, yang memiliki kekuatan untuk memerintah orang lain dan menyukai pizza hu..., erm, bentar, ralat ralat, cewek yang tubuhnya bisa menjadi kristal dan mempunyai kekuatan superhuman. Dan, yaa gitu de, akhirnya cewek itu di"amankan" oleh kelompok tokoh utama kita dan sampai di sini episode pertama berakhir. Yah meskipun begitu, anime ini memiliki lagu opening dan ending yang keren, dengan irama jazz yang kental, sangat mewakili aura urban yang ada di anime ini, baik lagu op maupun ed nya wajib untuk diburu bla keluar single nya nanti.

Enough for the Crystal Blaze review, selanjutnya kita beralih ke anime satunya lagi, Nabari no Ou. Pada awalnya saya tidak begitu tertarik dengan keberadaan judul yang satu ini, karena dari sekilas "foto bersama" yang ada pada trailernya sudah mengisyaratkan satu hal; action rame-rame. Tapi karena saya pengen menyimpan Alison untuk malem minggunya, akhirnya saya coba untuk menonton juga.
note: tidak seperti fansub lainnya, ukuran font yang dipakai ainex terlalu kecil sehingga screencap yang ada di sini sulit untuk dibaca, but don't worry, jika ada sesuatu yang menarik, dalam screenshot akan ditulis ulang di post ini.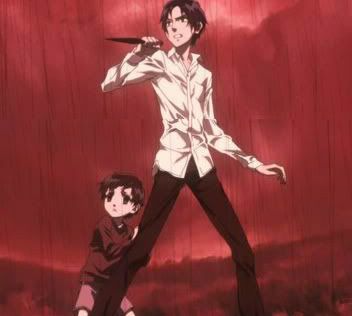 Cerita dibuka dengan adegan dua orang cowok yang dikejar-kejar ninja banyak banget sampai kaya di dinasty warrior.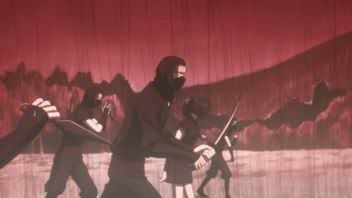 Lalu saat mereka sudah terkepung, tiba-tiba si shota menjadi oyashiro-mode (omg! lol)
Selanjutnya keluarlah tentakel-tentakel (?) dari dalam tanah (oh wow)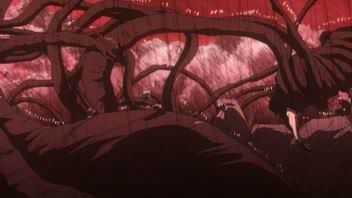 Sementara si shota tadi terserang mushi yang seperti gabungan antara penyakit cacar dengan the matrix (lolwut?)
Kemudian, barulah kita tahu kalo nama shota tadi adalah Miharu.. dan inilah wujudnya yang sekarang.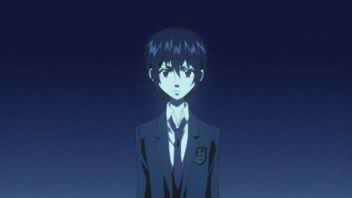 Berlanjut ke bagian opening song. Lagunya lumayan keren juga sih, agak-agak shounen-ish tapi ada duetnya. And seperti biasanya ada adegan foto bareng di openingnya, dan sampai di sini reaksi saya atas anime ini berubah total!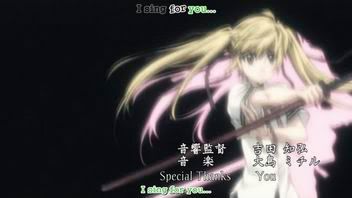 omg!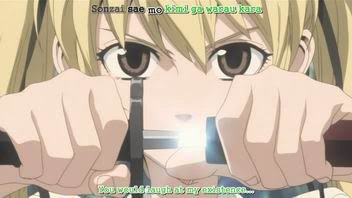 omg! holy awesom!!!oneone11eleveneleven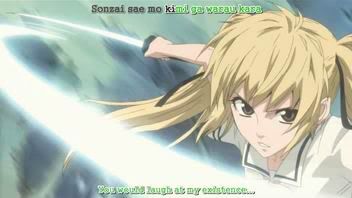 fantastic! splendid! marvelous!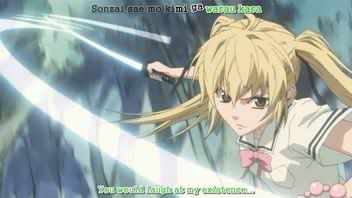 moarrr!!!
mmmmmmmmmmmmmmmmoaaaaaaaaarrr!!
Tapi apakah coolgirltwintailwithasword di atas membuat rating saya untuk anime ini naik? jawabannya.. ya iya laah XDD Jadi anime ini termasuk dalam the oh so awesome anime list of this season? sayang sekali, sepertinya tidak.
Seperti yang bisa kalian tebak dari judul post (atau setelah melihat opening clipnya), anime ini dibuat oleh studio yang, season kemarin sempat membuat saya misuh-misuh tidak jelas, J.C staff. Personally saya tidak suka dengan anime action J.C, warna pastel khas mereka lebih cocok untuk sebuah "panggung" drama, dan sense of sentimentalnya dalam anime drama mereka juga lebih mengena dibanding studio lain. Aaaah, J.C staff? kenapa malah action? dan diatas segalanya, kenapa harus YAOI??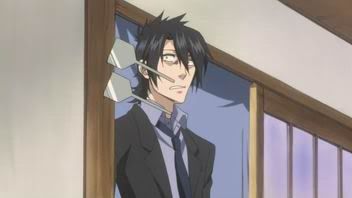 LOLWUT? YAOI?
Yup, you heard it right. Rejoice, fujoshi. Retreat, fanboys. Nabari no Ou bercerita tentang Rokujou Miharu, tokoh utama anime ini, seorang shota yang diincar oleh banyak pihak karena menyimpan sebuah "buku" bernama hijutsu, dimana pemiliknya tersebut akan menjadi Nabari no Ou, atau King of Nabari, yaitu raja diantara clan ninja, or something like that.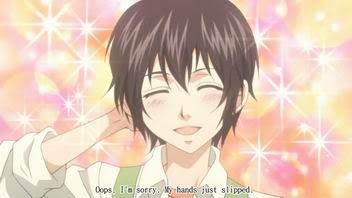 Jika Yuuki dalam Vampire Knight diincar karena her delicious neck, this boy is being hunted because of his delicious ass XDD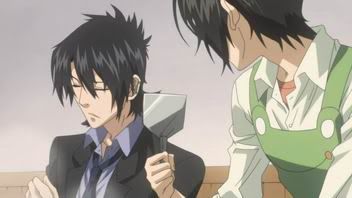 Orang yang akan melindungi Miharu ini adalah Tobari-sensei, tidak perlu menjadi fujoshi level tinggi untuk melihat jika mereka berdua adalah main yaoi coupling anime ini.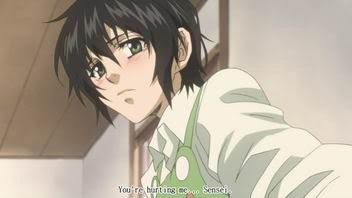 "sensei, stop, it hurts.. " (OMGWTFBBQROTFL?!)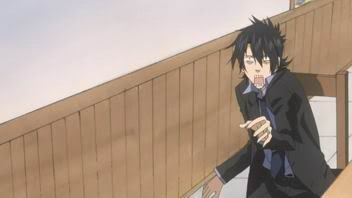 dan sejak saat itu, setelah melihat ke"moe"an Miharu, sang sensei akhirnya officially becomes yaoi.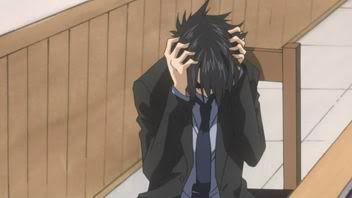 NOO!! jerit sang sensei, but it was too late...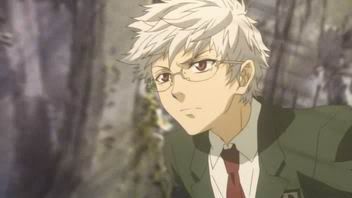 Selain itu ada juga teman sekolah Miharu, si cool megane shounen. Namanya Aizawa. Dia juga seorang ninja. Apakah dia juga yaoi? Sepertinya tidak perlu penjelasan lebih lanjut.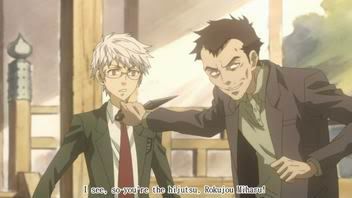 Akhirnya Miharu mau tidak mau memang harus terjun ke dalam pertempuran, lawan pertamanya adalah gurunya yang tampangnya seperti baru mabok ini. Pada awalnya J.C staff hendak membuat adegan rape di sini, tapi karena dirasa terlalu hardcore dan kemungkinan para fujoshi tidak menyukai tokoh megane shounen favorite mereka dinodai oleh orang mabok, akhirnya adegan itu dibatalkan (bohong)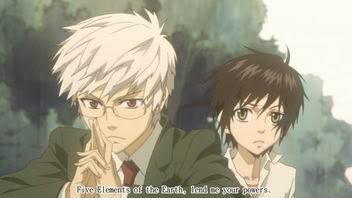 setelah bermainan naruto-narutoan, akhirnya Aizawa dan Miharu menghilang bersama daun (oh wow)
daun-daun no jutsu!!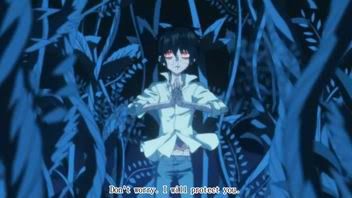 Lalu ada pertarungan lagi, kali ini lumayan susah musuhnya jadi Aizawa terpaksa memakai jutsunya.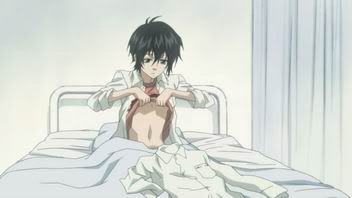 Setelah blablabla dan penjelasan tentang hijutsu lagi, akhirnya adegan H yang ditunggu-tunggu para fans yaoi pun dimulai.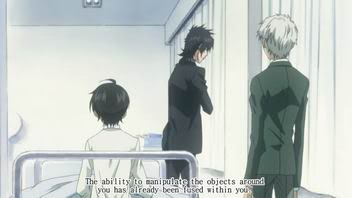 threesome, of course
don't give
the hijutsu
your virginity to everybody
Tapi sayang sekali, ternyata ada musuh lagi. Engga jadi dech yaoi scene nya
Adegan fightingnya keren juga btw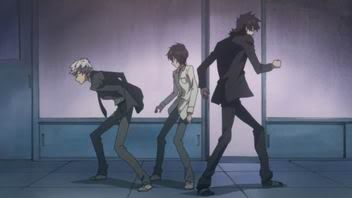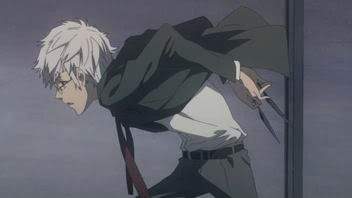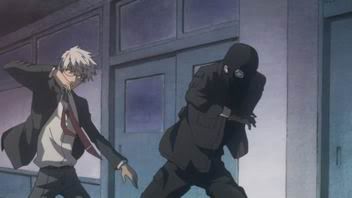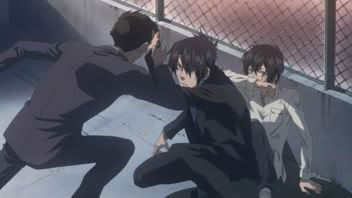 Akhirnya musuh berhasil dikalahkan (ya iya lah, kalo Miharunya mati animenya ntar langsung tamat dong) dan di saat-saat ketika Miharu hampir tertangkap, si sensei datang untuk menyelamatkan.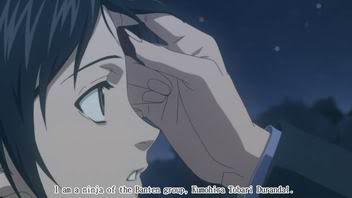 Love confession, finally.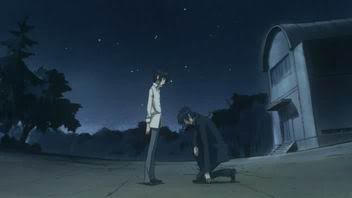 I'll give my ass only for you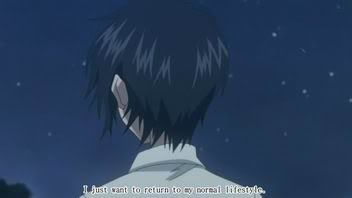 I just want to return to my normal life.. gitu katanya sih. Well, to bad kid, you are on YAOI anime nao, there is no way you will have a NORMAL life. I feel so bad for you XDDD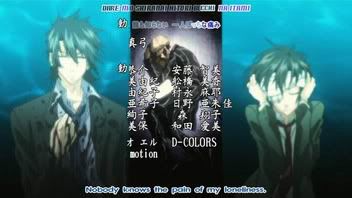 yah begitulah episode satu berakhir diiringi tawa temen saya yang masih nggak berhenti ngakak sejak saya ngomong soal "I'll give my ass only for you" di adegan tadi, disusul teriakan histeris saya selang beberapa detik kemudian yang baru nyadar "WTF?? Kok cewek twintail keren yang pake pedang tadi enggak adaaaaaaaaaaaaa??????????????!!!!!"