Dark horse season ini sudah keluar satu! "Shugo Chara" judulnya. Dang it, kena saya!
Kenaaaaa XD lol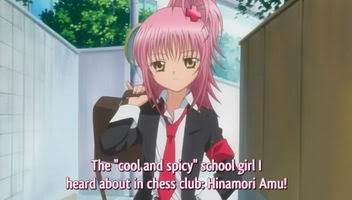 hawt X3
"Karena nggak tau mau ngomong apa jadi malah dianggap cool, karena nggak tau apa yang harus dilakukan malah dikira rebel. Duh!"
this is how tsundere works in shoujo system
Kemaren, pas browsing hardisk temen, aku ngeliat "Pretear" diantara tumpukan anime yang jadi residu di hd itu and tiba-tiba kepikiran, eh.. kapan ya terakhir aku ngeliat anime mahou shoujo yang bener-bener shoujo? Yang benar-benar menampilkan sudut pandang dan pemikiran dawri seorang cewek? Akhir-akhir ini genre mahou shoujo sudah mulai terakusisi oleh the great moe-ism, udah nggak ada lagi yang seperti miracle girl atau card captor sakura. Ouran Host Club mungkin yang paling mendekati, tapi daripada sudut pandang Haruhi yang itu (hanya ada satu Haruhi di blog ini, jadi yg lainnya silahkan pake nama Haruhi yang itu, Haruhi yang satunya, del el el, lol) Ouran lebih berfokus ke mindset tiap bishounen pengisi gyaku harem anime itu. Nodame dan Hachikuro out karena itu makanan dengan aroma mature dan Lovely Complex... uh, very personally speaking, aku nggak dengan suka cewek yang lebih tinggi >_>
blok tokoh utama
blok antagonis, seperti biasa, banyak yang keren di sini...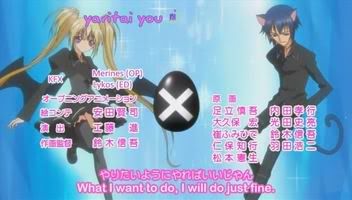 ...especially this couple
Tapi akhirnya pertanyaan saya terjawab, Shugo Chara hadir dengan balutan mahou shoujo yang shoujo, tema yang sebenarnya cukup berat namun berhasil dipresentasikan dengan ringan, dan poin plus untuk karakter utamanya yang (kayaknya) tsundere (tapi sebenarnya nggak) dan (meskipun terpaksa tapi yang penting) berdandan ala gothic punk. Akhirnya, cerita tentang tsundere dari sudut pandang ceweknya sendiri! Ow yeah!!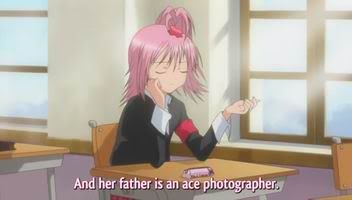 kayaknya pernah liat adegan kayak gini
lol. Kan?
deredere mode won't work without tsuntsun mode first, right?
LOL, Multiple Personality Disorder girl FTW XD
Naah...
You looks better this way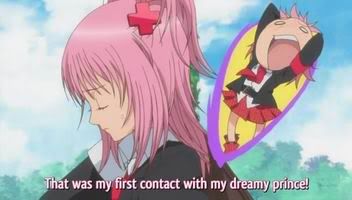 I wonder if Haruhi also feel this way too, lol
LOL, asli ketawa pas adegan ini XDXDXDXD
Yep, aku tau ini dari manga bikinannya peach-pit, the creator of the oh-so-greatly-awesome Rozen Maiden, tapi aku juga tau kalo Dears sucks (banget) dan season kemarin Zombie Loan bener2 nggak memuaskan. Tapi studio () sialan itu bisa mengadaptasi dari manga yang intinya sama dengan mahou shoujo klise biasa menjadi sesuatu yang keren. HOT and SPICY, BABY!!!!
Oh, look! A bishie! and he's got nekomimi!
and that smile, waah, so GAR!!! XD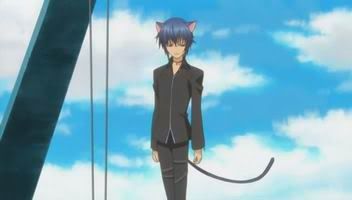 ada ekornya pula, what the??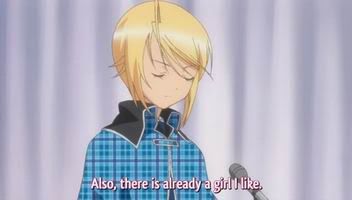 katanya gini..
kok jadi gini? xD d'oh! orang baik emang nggak ada yg beres xD
kurangnya cuma satu sih, kostumnya Amu waktu udah henshin malah jadi jelek >_> Nooo... aku harap suatu saat egg nya ketuker jadi pake yang punya musuhnya XDXD bisa nggak yah. Amu in gothloli outfit FTW XD~~~~~~~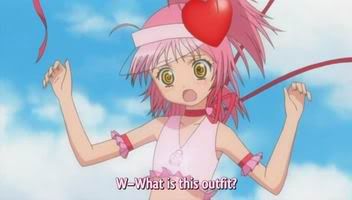 yeah, what is THAT outfit? so lame >_>
But this one is TEH WIN. LOL. EMO ftw XDXDXD