Well, banyak yang bandingin dua anime ini, memang tidak bisa di-judge mana yang menang dan mana yang kalah sih, karena meskipun sama-sama drama tapi dua anime ini memiliki kelas yang berbeda. Karena itu post ini juga cuma berisi perbandingan aja. Afterall, semuanya kan kembali ke selera masing-masing, ya nggak?
Main theme: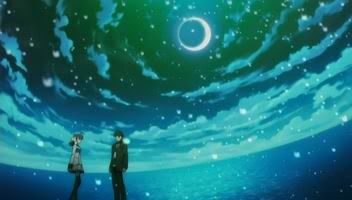 Biarpun sama-sama plot oriented, tapi tema utama kedua anime ini sebenarnya berbeda. Ef lebih berfokus pada romance relationship sedangkan Clannad mengarah pada relationship yang lebih general, meskipun tentu saja, romance nya juga dominan. Dari sekilas melihat saja, bisa dirasakan kalau ef punya aura "cerita yang terlihat manis di awal, slow, kalem, tapi perlahan tapi pasti, ada distorsi temporal di setiap periode tertentu yang akhirnya akan mengarah ke sesuatu yang bisa jadi mengerikan"
Clannad, di sisi lain, berjalan ke arah sebaliknya. Seperti karya KEY yang lain, aku yakin di akhir cerita, meskipun endingnya menyayat tapi selalu ada "pencerahan" di dalamnya.
Overall, bagiku semuanya keren, karena sama-sama ada angstnya XDXD biarpun yang satu di awal yang satu di tengah.
Karakter: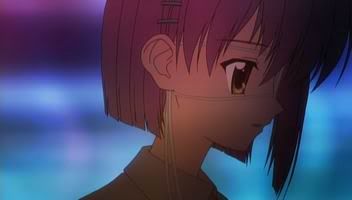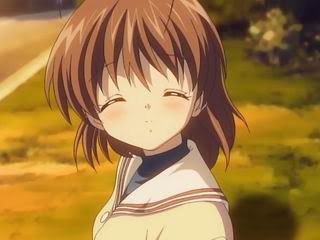 Dengan tema seperti di atas, Clannad punya cast yang lebih variatif. Eksistensi parent juga satu nilai plus sendiri. Cewek-cewek Key juga tidak ada yang normal seperti biasanya. Tapi Ef juga punya kelebihan. Meskipun karakter ceweknya stereotype kalo dipikir-pikir, tapi yang menarik adalah karakter cowoknya (not that I'm into yaoi now) problem yang dialami para cowok di Ef jauh dari masalah standar yang biasa ada di bishoujo anime.
Untuk plot dan karakter kedua anime ini sama imbangnya.
Visual: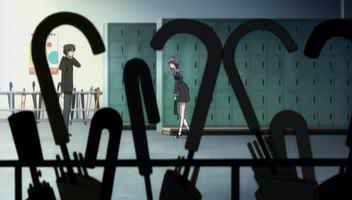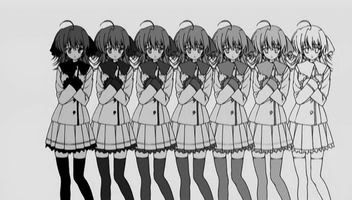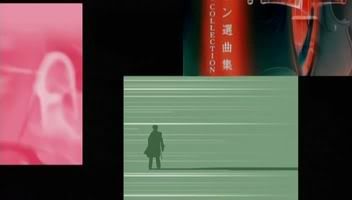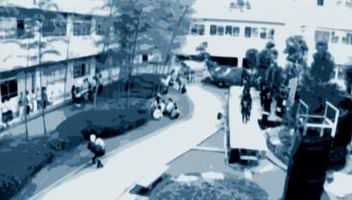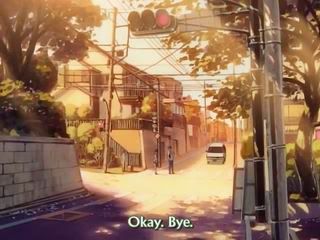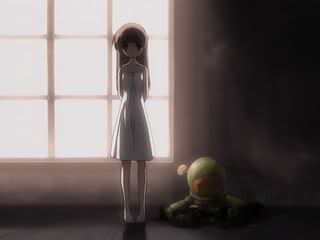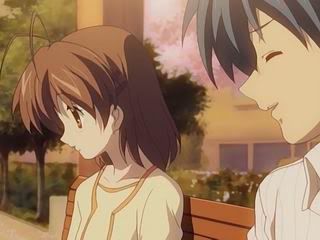 Banyak yang suka dengan gaya shaft yang suka menyisipkan visualisasi keren di tengah-tengah adegan. Keren sih. Ini juga yang aku bilang efek distorsi dalam sebuah anime yang kalem. Clannad, di sisi lain, tetep stick dengan scene down to earth (meskipun ceritanya nggak), danjangan lupa, detil background dan animasi yang fluid khas KyoAni. Ef memang adegan statis, Clannad menang adegan dinamis.
note: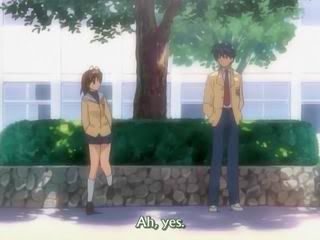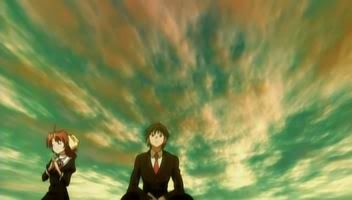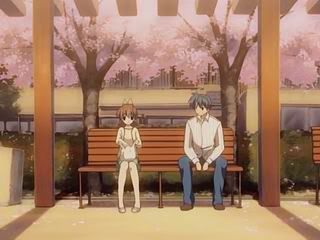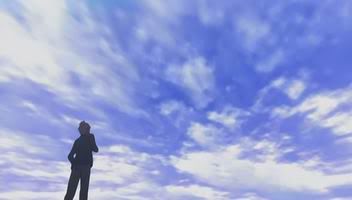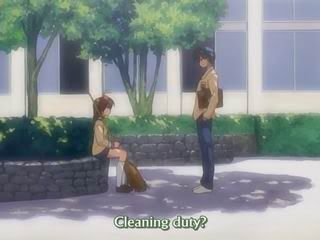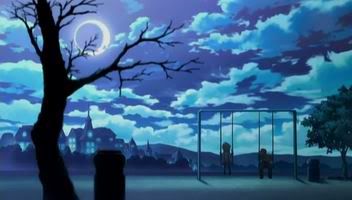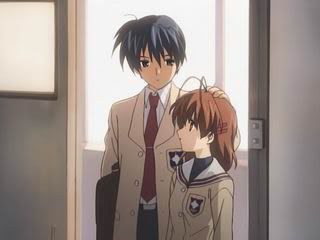 ada yang menarik sehubungan dengan visual element dari dua anime ini. Seperti yang aku tulis sebelumnya, Clannad yang "menuju ke zen" penuh dengan adegan simetris, sedangkan Ef yang "menuju ke emo" penuh dengan pengambilan scene asimetris. Di Clannad, lebih banyak pengambilan scene zoom-in untuk efek "kedekatan" sedangkan di Ef kebanyakan scenenya pake angle zoom-out yang memperkuat efek egocentric. WAW!!
Oh, dan satu lagi, ending clip ef yang mirip intro movie Persona 3. KEREEEEEEEN!!! (sayang lagunya nggak)
Musik:
Well, Clannad cuma memakai remake ulang track-track dari gamenya. Kecuali lagu op dan ed nya yang keren, tidak ada yang spesial dari sisi audio anime ini. Di sisi lain, ef punya tracklist yang keren (Tenmon gitu loh!!) ditambah fakta bahwa cowok di ef pada suka ngomong sendiri (monolog, bukannya gila) dentingan piano Tenmon yang memang sangat pas untuk adegan monolog membuat nilai plus untuk Ef. Ef juga punya Yuukyuu no Tsubasa yang nggak kalah kerennya sama opnya Clannad.