Ada dua anime (untuk drama, soalnya dari ghost hound aku lebih berharap ke action ato psychological thriller) yang aku punya heavy expectation di season ini, keduanya sama-sama diangkat dari bishoujo game, tapi punya plot yang (dari info yang aku dapet) cukup serius. Yang pertama adalah Clannad dan yang kedua adalah anime ini, EF: A tale of memories. Dua-duanya sama-sama blank start awalnya, karena aku nggak main gamenya, dua-duanya juga punya daya tarik sendiri-sendiri.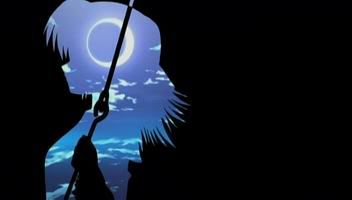 But before I make a post about the comparation, I would like to write about my impression first.
Cerita di anime ini berputar dengan 3 karakter utama yang, KERENNYA, semuanya mempunyai interest pada hal-hal yang jarang ada di sebuah cerita shounen. Seorang shoujo manga artist, seorang novelist wannabe, dan seorang (indie?) film maker. Quite feminine I'd say. Not that I dislike it, on contrary I feel very excited coz its rare seeing a person like them as main character. Dan ketiga karakter tadi meskipun memiliki cerita sendiri-sendiri tapi hubungan antar karakternya ternyata jauh lebih dekat dari yang aku prediksi, karena love interest mereka masing-masing ada yang ternyata merupakan orang yang sama. Bayangkan cinta segiempat dengan pemain yang semuanya adalah tokoh utama yang, tentu saja, sama kuatnya. Kereeeen XD Nah, siapa saja penggerak roda cerita yang hopefully bakal jadi angst ini?
note: karena masih baru nonton, beberapa ada yg lupa nama keluarganya, gomen na XD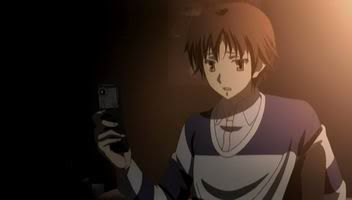 Hirono Hiro (HiroHiro)
Seorang shoujo mangaka pro, dalam artian dia sudah menerbitkan serialnya di sebuah majalah yang bekerja dengan sistem deadline, meskipun dia sendiri masih bersekolah. Keren? tunggu dulu, dengan kerjaan seperti itu, dia jadi malas masuk sekolah. Lagipula, dia jelas lebih menikmati pekerjaannya sebagai mangaka. Digaji lagi. Terancam tidak naik kelas gara-gara hal ini. Masih terdengar keren? kalo iya, bagus, berarti pikiran kalian sama dengan saya, lol.
Miyamura Miyako (MiyaMiya)
Selain namanya yang kalo diedit jadi terdengar sama anehnya dengan Hirono, Miyako adalah cewek easy going dan tukang bolos nomer satu. Ini membuat chemistry mereka sangat kuat dan bahkan lebih nyambung dibanding Hirono dengan Kei, padahal Hirono sendiri baru bertemu Miyako beberapa hari yg lalu.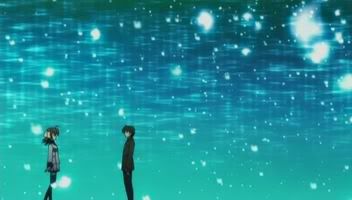 MiyakoXHirono
Karena sama-sama nggak pernah setor muka di sekolah, Miyako bertemu Hirono justru di malam christmas eve, dimana dia meminjam (tanpa persetujuan) sepeda Hirono untuk mengejar penjambret tasnya, yang sayangnya (atau untungnya) tetep nggak ketangkep, dan akhirnya kedua manusia carefree ini menghabiskan malam natal berdua karena Miyako nggak bisa pulang karena kunci rumahnya ada di dalam tas yang dijambret tadi.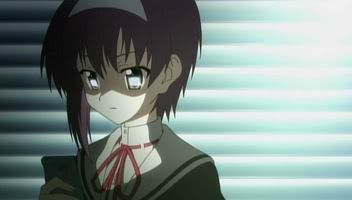 Kei
Kei adalah cewek selalu memanggil Hirono dengan panggilan kakak. Apakah mereka ada hubungan darah atau nggak, entahlah. Yang jelas setiap pagi dia selalu membangunkan Hirono (apa mereka juga tinggal serumah?) . Selain bisa main basket (keren!) dia juga punya kepribadian yang lebih serius dan realistis daripada Hirono. Orangnya perhatian tapi (dari episode prologuenya) bisa menjadi sangat emosional kalo menyangkut masalah Hirono.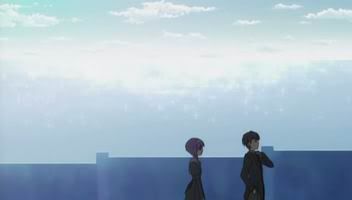 KeiXHirono
Aku mendapat vibrate kalo dia mirip seperti Kaede, jika Kaede terobsesi dengan Rin karena penebusan dosanya, sepertinya anak ini terobsesi dengan Hirono karena dimatanya dia menyukai semangat Hirono dalam menjadi mangaka (padahal Hirono sendiri masih ragu dengan jalan hidupnya sebagai mangaka) hm.. kita tunggu aja apa dia bakal menciprati anime ini dengan darah natinya, hehe.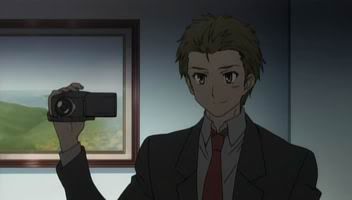 Kyosuke
Kyosuke adalah teman Hirono. Anak club film dan suka membawa camcorder kemanapun (kayaknya lagi mau bikin film indie) Tidak seperti Yohei-nya Clannad, Kyosuke lebih serius dan punya kecerdikan yang sama dengan Hirono.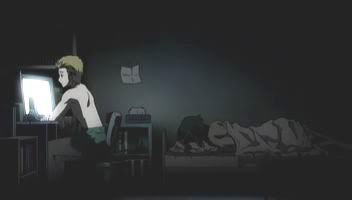 Aku merasa Kyosuke juga lebih dewasa pemikirannya, dia juga sudah punya cewek dan sudah sampai melakukan seks (way to go, dude XD). Tapi toh tetap saja, ketika dia tidak sengaja merekam Kei di seberang jalan saat malam natal, dia mulai terobsesi dengannya. Rekaman pertamanya ngeblur, tapi obsesinya kayaknya makin nambah. Hah, knapa yah, orang yang udah punya pacar tetep bisa kena yang kaya gini? memang kalo nggak gini ceritanya nggak rame. lol. Next!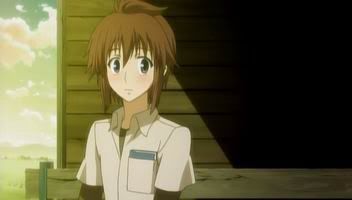 Renji
Diantara ketiga cowok dalam anime ini, Renji adalah yang paling kalem dan uh, apa yah, polos? Novelist wannabe bingung dengan jalan yang akan dia ambil karena dia merasa cukup dewasa untuk melihat kenyataan bahwa dia harus melepaskan mimpinya sebagai seorang novelist (knapa orang-orang di anime ini . Punya kebiasaan menirukan adegan dalam film "Stand by Me" sepulang sekolah, yaitu berjalan di atas rel kereta di sebuah stasiun yang sudah tidak terpakai. Suatu ketika dia bertemu dengan cewek yang memakai eyepatch di stasiun itu.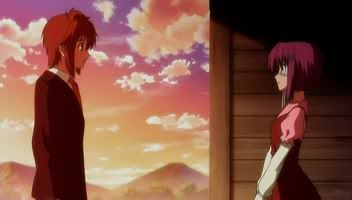 Personally, aku paling suka dengan arcnya anak ini. Aku bisa masuk ke chemistry nya Hirono dan Miyako, juga paham perasannya Kei (knapa smsnya nggak dikirim saja, bodoh? >_>) juga dengan obsesi khas artisan yang ada dalam diri Kyosuke, tapi above all, empati paling kerasa buatku memang dari kasusnya Kyosuke. Mungkin karena sama-sama wordaholic yah?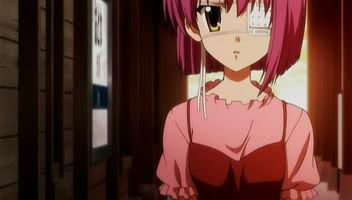 Chihiro
Cewek di stasiun yang sering dipakai Renji untuk "hangout" sepulang sekolah. Memakai eyepacth di matanya (emang dimana lagi? lol) dan ternyata sama dengan Renji, suka nulis. Chihiro yang tidak sekolah ini menulis diari setiap harinya karena dia mengidap penyakit dimana ingatannya hanya bertahan selama 13 jam (waooo, fifty first date, anyone?). Renji akhirnya tahu hal ini tapi memutuskan untuk tetap mengambil resiko. Aw, their stories' just too sweet >_> I hope the ending is a bit bitter, tough. haha.
ChihiroXRenji
Overall, yes, byojaku moe (girl with health problem ex: misuzu-AIR, shiori-KANON, Narcissu) is my thing, jadi meskipun silent girl+eyepatch nggak begitu masuk, tapi ketutup sama karakter dia dan (lagi-lagi) karena dia wordaholic.
First impression about this anime finished, I'll post more about EfXClannad, tapi ada yg mau aku post dulu buat selingan.