Okay, barusan aku nge rally eps 09-12. Walaupun 3 episode, tapi aku merasa lebih banyak materi yang filler daripada yg berhubungan dengan main plot. So let's just skip all the pointless stuff and get down with the main arc. Ada banyak hal yang menarik untuk ditulis selain review episode nya sendiri, tapi aku tahan buat review episode akhirnya sekalian last impression et cetera et cetera. Now, on to the recap!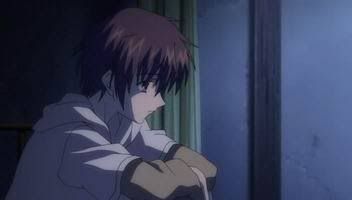 Yorito mendapatkan ingatannya kembali (saat dia "dikendalikan" Aono dan mencoba membunuh Matsuri), Matsuri muncul dan jadilah adegan pertemuan yang keren
Kenapa keren? well, karena..
Seperti biasanya, please don't try this at home... but try it outside coz the blood will be too messy to clean up :)
However, tidak ada darah mengalir dari badan Yorito. Kenapa? well..
OMG! Yorito is pepakura!
Dengan ini, semua yang berprediksi kalo Yorito adalah homunculi buatan Aono silahkan mengambil gelas dan bersulang XD Kanpaiii~~
Ok, sekarang pindah ke arc karakter lain dulu, soalnya sepertinya mereka bakal tidak akan tampil lagi, first is Mayuko-sama. Dia dan Takeshi melanjutkan perjalanan mereka.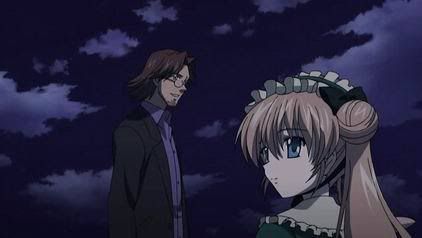 Bye bye all, from now on Sola will be gothloli-less, lol.
Next is Mana. Kalo aku bilang, Mana adalah karakter yang sebenarnya punya chance sama besarnya dengan Matsuri dan Aono untuk bersama Yorito, meskipun dia adalah satu-satunya yang manusia dan satu-satunya yang tidak berhubungan dengan event di masa lalu. She's more than support accessories chara for me. Jika Matsuri dan Aono tewas semua dalam duel nanti, Mana adalah tempat kembali Yorito dan satu-satunya penghubung dengan dunia normal (she's kind of remind me to Mataki from Petit Cossette).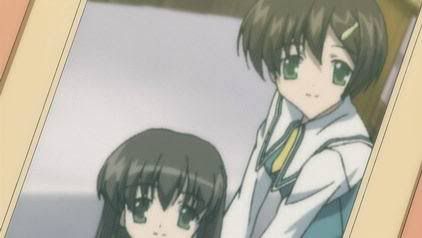 Di "dunia nyata", semua orang sudah melupakan Yorito, bahkan foto Yorito yang ada di dalam handphone pun Mana pun...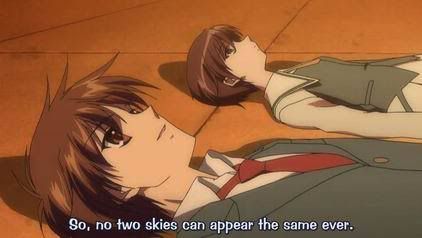 the last sunset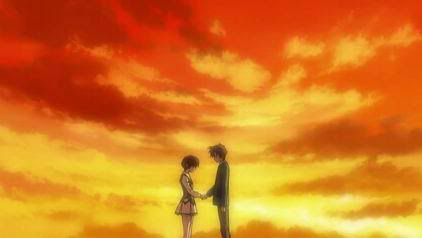 I know, I know I've let you down, I've been a fool to myself..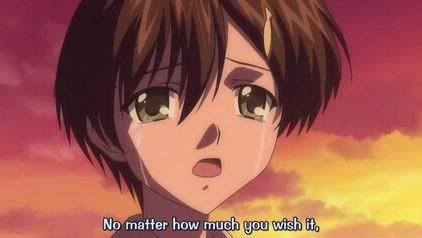 satu kontestan tereliminasi... kah?
Back to Yorito, Yorito tentu saja jadi down setelah bahwa dia hanya copy an dari Yorito yang sebenarnya, tapi karakter bishoujo yang baik selalu tahu apa yang harus dilakukan pada saat-saat seperti ini XD~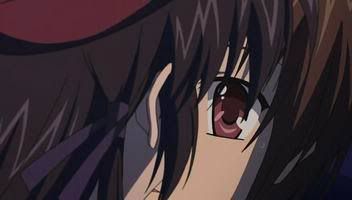 Apa yang terjadi sebenarnya di masa lalu? Semuanya akhirnya terjawab sekarang. Pada awalnya, Matsuri, Yorito dan Aono berteman baik, saat itu Aono tidak tahu jika Matsuri adalah seorang yaka. Masalah mulai timbul saat Aono terpilih untuk dikorbankan pada yaka (yang ternyata adalah Matsuri). Di sisi lain, Yorito sendiri (yang original, bukan Yorito yang sekarang) saat itu sudah menyukai Matsuri, dan dia menunjukkannya dengan terang-terangan di depan Aono.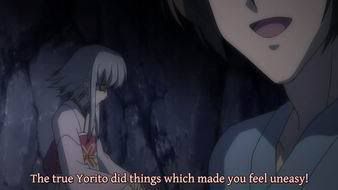 Pada akhirnya Aono menolak untuk dikorbankan pada yaka, dan Yorito akhirnya meninggal. Entah apakah karena itu kutukan atau bukan, yang jelas Aono menganggap semua itu karena kesalahannya dan dia lalu bunuh diri.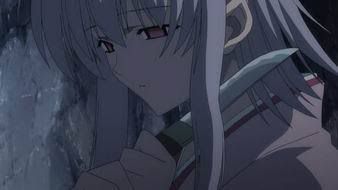 Tapi Matsuri yang kesepian karena tidak pernah mempunyai teman memakai kekuatannya untuk menghidupkan Aono sebagai yaka. Kenapa Matsuri tidak menghidupkan Yorito saja biar ceritanya happy end dari dulu dulu? good question; Yorito meninggal akibat tanah longsor yang mengenai rumahnya dan jasadnya tidak bisa ditemukan, karena itu Matsuri akhirnya menghidupkan Aono. Kenapa Aono tidak bunuh diri aja lagi dengan "terjun" ke arah sinar matahari? good question again (emang ada yg tanya?) Well, spekulasi dari fans adalah jika yaka mati karena terbakar, sepertinya mereka tidak akan menuju afterlife, but just simply not exist anymore (bingung yah?) Anyway. sekarang keadaan jadi terbalik, fans Aono yang kemarin-kemarin terpojok memakai fakta di atas tadi untuk balik membantai blok fans nya Matsuri, damn.. >_>
Aono tentu saja tidak terima dirinya di"hidup"kan di dunia yang sudah tak ber-Yorito lagi. "B*tch, I finally got together with the person who almost got stolen by you in the afterlife and you summon me back here just because u're lonely and need a friend, what the f---? u're never tired buggin' me, aren't ya?"
Well, tentu saja di anime aono nggak ngomong kaya gitu, lol. Akhirnya Aono dengan kekuatannya membuat "Yorito" dari kertas.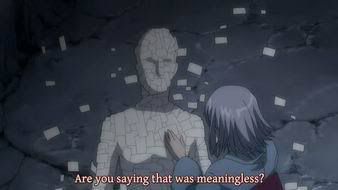 Yorito pepakura!! /r/ for template! lol
Matsuri akhirnya membuat keputusan bahwa dia harus mengakhiri semua kekacauan yang dia buat sejak awal ini, akhirnya dengan meminjam pedang milik Takeshi dia menemui Aono untuk final battle.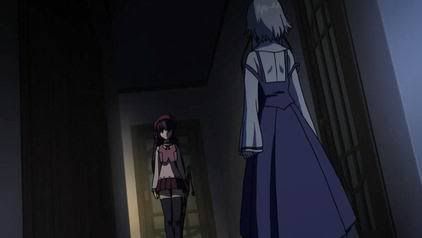 Sebelum pertarungan dimulai, Matsuri mengajak Yorito menonton film dulu, lol.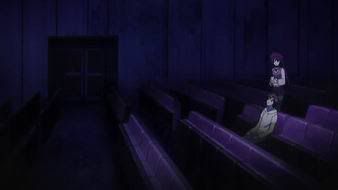 Benernya sih, Matsuri "memilih" tempat untuk final battle itu di sebuah gedung theatre yang sudah ter-kekkai-kan ("X 1999" banget XD) jadi orang yang lewat situ hanya akan melihat tempat itu sebagai lahan kosong, Matsuri membeli popcorn dan duduk di samping Yorito.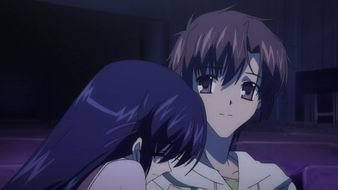 Mereka lalu menonton "film" (udah berapa banyak tanda petik yang kupake di post ini btw? lol), Matsuri berkata pada Yorito, "yang penting moodnya" dan "kita sedang nonton film horror". Saat dia menjerit karena "filmnya menakutkan", Yorito berkata "jangan khawatir, kalo di film jagoannya gak bakal mati" (duh! pertanda kayaknya XD) Aono akhirnya sampai di luar gedung dan Matsuri pun keluar. Pertarungan dimulai.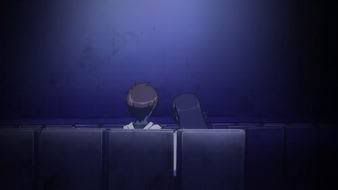 Filmnya berjudul "Tembok yang Polos", lol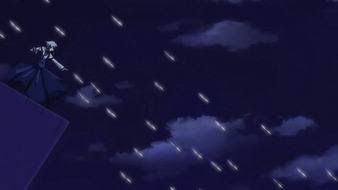 Woot! Unlimited (Paper)Blade Work! Btw cuma aku ato Aono jadi mirip Sakuya nya Touhou?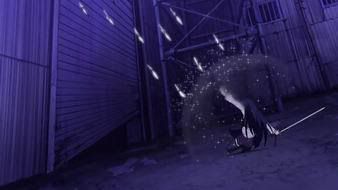 Barrier guard. Perasaan Matsuri tidak pernah ngeluarin spell offensive yah?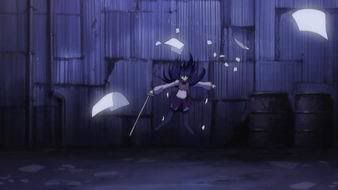 Adegan battle anime ini bener2 keren, apalagi mengingat Sola adalah anime drama.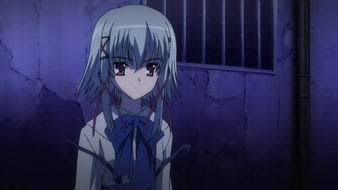 Aono: "Give Yorito back"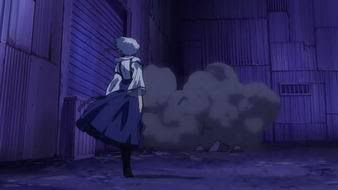 .. or this is what you get.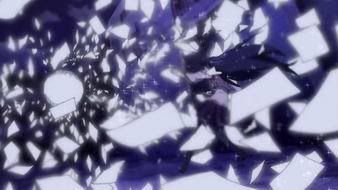 Wow, paper party XD
Ketika pertarungan berakhir, Matsuri baru sadar, ternyata Aono yang dia kalahkan adalah papercraft Aono. Sementara Aono yang asli masuk dan menahan Yorito agar tidak melarikan diri.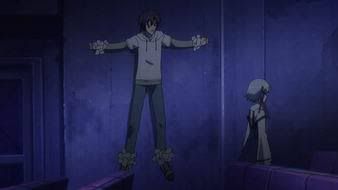 Aono: "I'll take them off soon when it's over"
Yorito: "Even if Matsuri were no more, I still won't go with you"
Aono: "Then I'll take you by force"
Yorito berkata pada Aono, apa karena aku adalah barang yang kau ciptakan? Karena Yorito yang asli mencintai Matsuri lalu kamu membuatku supaya mencintaimu? Tapi kamu harus tahu, inilah hidup, dan di dalam kehidupan..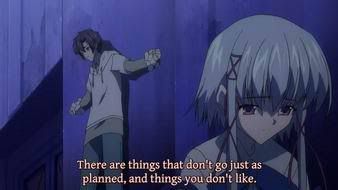 Dalem, Yorito, daleeeeeeeeeeeeeem.. XD
Yah, tapi sebodo amat sama omongannya Yorito, sudah sampai sini kalo Aono menyerah final battle bakal nggak seru kan? Maju, pepakura pisauku tersayang XD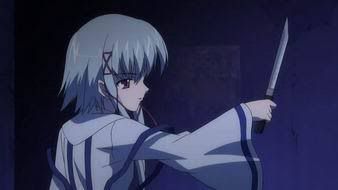 higurashi style~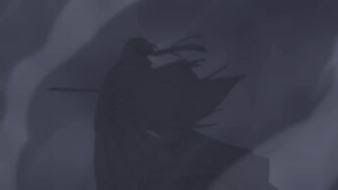 *jleb*
And the winner is... Matsuri, huh? but wait, ternyata Aono yang ini juga kertas. Oh shi---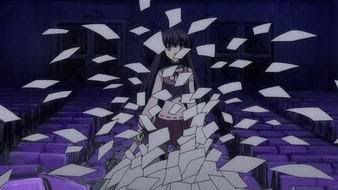 Ini yang asli..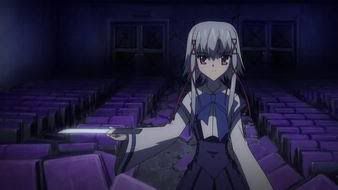 Aono menyerang Matsuri. Yorito-kertas akhirnya merobek tangannya dan menuju ke arah Aono. "Yamete! warui wa ore nanda!!" ups, salah anime, hehe (yg tadi itu ucapan dari Kiminozo btw).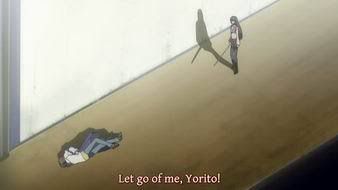 Tiba-tiba projector menyala dan memutar sebuah film dengan gambar langit berwarna biru. (OMG! ternyata mereka barusan muter "Elephant" lol XDXDXD Okay, aku jelasin buat yg penasaran, Elephant adalah film yang bercerita tentang penembakan oleh 2 orang murid di sebuah SMU, kalo selera kalian sama denganku, rekomended banget ini film -hint: higurashi with fire arm XD- and pas bagian credit di film ini gambar backgroundnya memakai gambar langit, persis kaya yg diputer di screenshots di bawah ini)
This ain't a scene, it's a..
Final slash, dan... jleb!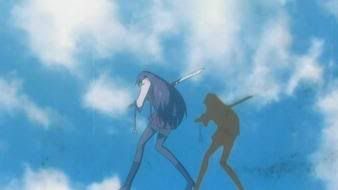 bersambung
what the heeeeeeeeeell 0_o?!! Well, dari kata-kata Takeshi di beberapa adegan sebelumnya, kemungkinan Matsuri memakai darahnya untuk membuat Aono menjadi manusia. So, is this mean that Aono is the winner? And Matsuri dies? Will Mana go oyashiro-mode and get revenge? Ato tiba-tiba semua orang berdamai dan hidup bersama in a suck but very popular harem ending? jawabannya ada di episode terakhir. Yang udah nonton, no spoiler pliss ^^